Join us as we welcome Karen Davis to the Griffin Zoom Room!  Karen will talk about her book, Still Stepping: A Family Portrait.
We are so excited to have her join us! Here is a bit of information from Karen:
Twenty-five years ago, Meredith Morgan, Edward Orton and their children, Parker and Maggie, became the primary subjects of my photographic exploration of family. As a new photographer, related to them through marriage, I was grateful for their accessibility, openness and patience.
Still Stepping: A Family Portrait is the story of the Morgan Ortons as they cruise along, get clobbered by a devastating childhood illness and then move forward. Amidst the quotidian of life, my photographs and their words present a narrative of the family as their world turned upside down and was then righted by shaken but determined parents.
When Parker was eight, Ed and Meredith embarked on a desperate search for help for their son's increasingly disturbing behavior. Over the course of a year, his condition continued to worsen. After months of doctor visits, stimulant and antipsychotic drugs, misdiagnoses, and hospital admissions, Parker was diagnosed with childhood onset schizophrenia (COS).
The four Morgan Ortons, jolted by a terrible disease, have shown love, persistence, courage and an infectious humor. And, over the years, no matter what the circumstances they found themselves in, they wrote and I photographed, which now makes it possible for me to share their story.
For those of us who have grown up in a family challenged by mental or physical disability, it is a familiar and perhaps cathartic story.  For the general public, this story offers the universal in the particular—a family challenged, a family responds.
In this Zoom talk I will give an illustrated overview of the book and show stages in the book's development. I'll talk about some of the problems and issues I faced along the way and how I resolved them to reach the book's final form.'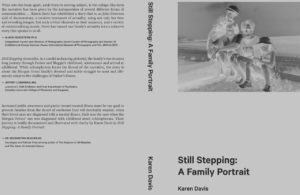 About Karen Davis:
Karen Davis's work is featured at the Massachusetts Museum of Contemporary Art (MASS MoCA) and in the collections of Center for Photography at Woodstock (CPW) at Samuel Dorsky Museum of Art; Lishui Museum of Photography (China); Houghton Rare Books Library, Harvard University and corporate and private collections. Her word and image book, Still Stepping: A Family Portrait, was published in 2020. Davis, of Hudson NY, is a Critical Mass 2018 finalist and recipient of the 2009 Artists Fellowship Award-CPW. Her photographs and artist books have appeared in numerous solo and featured exhibits throughout the country including her project, The McCann Family, at Griffin Museum of Photography.
Davis is curator/co-founder of Davis Orton Gallery in Hudson NY, now in its eleventh year, where they exhibit photography, mixed media and photobooks. She was a longtime teacher of Photography Atelier which began at Radcliffe Seminars, Harvard University, continued at Lesley Seminars and now is at home at the Griffin Museum of Photography. She has taught other photo-based and word and image art courses at the Art Institute of Boston/Lesley University, Tufts University's X-College and Suffolk University. Davis presently teaches Portfolio Development and Marketing online for the Griffin Museum.