Notice: This event has been cancelled due to unforeseen circumstances. Please contact the museum if you need additional information.
The Griffin Museum of Photography is delighted to host Janelle Lynch. She will share her project and book, Another Way of Looking at Love (Radius Books, 2018).
In Another Way of Looking at Love, the landscape is explored as a metaphor for our yearning to be connected, while considering the personal, societal, and environmental consequences of disconnection. From 2015-2018, Janelle Lynch (born 1969) used the 8×10 camera to create natural still lives. Her process included placing the camera in unique vantage points in order to focus on details that visually create geometric formations of closure. The connective point, or nucleus, designed by the union became the artist's plane of focus. The nebulous area within the forms represents space for new realities or possibilities to be imagined. The work is informed by Lynch's immersion in perceptual drawing and painting, an important element to her photographic practice that has allowed for a deeper inquiry into the nature of seeing. The series' title derives from a quote by the philosopher Alain de Botton, who supports Dr. Amy Banks' neuroscientific research and Relational-Cultural Theory. Dr. Banks' theory posits that humans are biologically hardwired to connect and that our personal and cultural well-being depends on our connection with others and with nature. This three-year project reflects on the notion of a natural ideal, and the interconnectedness of all life forms.
Bio: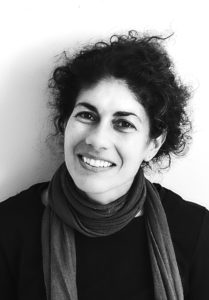 Janelle Lynch is an American large-format photographer with a 20-year career during which she has investigated themes of loss, absence, and presence through the landscapes and waterways of the United States, Mexico, and Spain. Her most recent series, Another Way of Looking at Love, about which Charlotte Cotton said is "…full of delicate hope," explores nature as a metaphor to consider the personal, societal, and environmental consequences of disconnection, and simultaneously, our inherent yearning for connection.
Lynch's photographs are in museum collections including The Metropolitan Museum of Art; Museum of the City of New York; New York Public Library; Brooklyn Museum; George Eastman Museum; and the New-York Historical Society. She has three monographs published by Radius Books: Los Jardines de México (2010); AIGA award-winning Barcelona (2013), which also features her writings; and Another Way of Looking at Love (2018), which includes an essay by Darius Himes, International Head of Photographs, Christie's.
Since 1999, Lynch's work has been shown internationally. She has had one-person museum exhibitions at the Museo Archivo de la Fotografía (Mexico City), the Southeast Museum of Photography (Daytona Beach, FL), and the Burchfield Penney Art Center (Buffalo, NY). Other notable exhibitions include the Photographic Resource Center, Hudson River Museum, Newark Museum, Municipal Museum of Contemporary Art (Photo España), Frankfurt Forum Fotografie, and the Festival International de Mode et de Photographie à Hyères. Lynch's work has appeared in international publications including The Boston Globe, The Buffalo News, The Photo Review, Photo District News, photo-eye, L'Oeil de la Photographie, Photo-International, and La Vanguardia.
Lynch is a faculty member at the International Center of Photography and a frequent guest lecturer. She writes about photography for Afterimage, photo-eye, and The Photo Review. Lynch received an MFA in Photography from the School of Visual Arts in 1999. From 2015-2018, while photographing Another Way of Looking at Love, Lynch studied perceptual drawing and painting at the New York Studio School of Drawing, Painting and Sculpture. She lives and works in New York City.