August Photo Chat Chat | Steven Borack, Tommy Bruce, Sarah Hoskins and Skip Smith
August 12 @ 7:00 pm

-

8:00 pm
Our Photo Chat Chat is a monthly conversation bringing together four members of the Griffin community to share their work, ideas and creativity with a broader audience. We are thrilled to bring together these artists who have unique perspectives on creativity and the world they inhabit. 

 </span
>
This event is FREE to Griffin Museum members. $10 for Non Members. Interested in Membership and its benefits? See more about what the Griffin offers here.
Steven Borack –
I was on assignment for a local newspaper, doing a picture story on the Ringling Brothers Barnum and Bailey circus at the famous
Boston Garden. When I arrived and met with my contact person, I was told that a guest clown was visiting our location and pictures were needed of him.
 Shoot whatever works I was told. We then met and proceeded to multiple locations to make various images. I photographed the clown interacting with another clown. And then the clown holding one of his sneakers above his head.
 After being out in front of the crowds we decided to go back to the guest waiting room for our contact. While we were waiting I noticed a TV and a couple of covered seats. I told our guest to interact while I shot. This is were the magic happened.
Tommy Bruce –
Tommy Bruce is an artist residing in Albuquerque, New Mexico. His work centers on an exploration of identity in contemporary culture through work with the Furry community. He was born in State College, Pennsylvania. He received an MFA in Studio Art from the University of New Mexico in 2020 and a BFA in Photography from the Maryland Institute College of Art in 2014. 
 His work has been featured in exhibitions and publications internationally, including Art in America, The Institute for Contemporary Art Philadelphia, Vice, Lenscratch and ArtForum. He was recently named one of "12 New Mexico Artists to Know" by Southwest
 Contemporary Magazine. His solo exhibition "New Fauna" is currently on view at Ellsworth Gallery in Santa Fe, New Mexico.
Sarah Hoskins –
Sarah Hoskins is a documentary photographer based in Kentucky.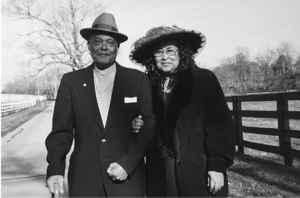 Sarah's photographs have been included in over 100 exhibitions and are in the permanent collections of The Archive of Documentary Arts at Duke University, The Smithsonian Institution, The Museum of Fine Arts Houston, The Center for Photography at Woodstock, The Art Museum at the University of Kentucky and the City of Chicago. Her work was selected for Photography Now, 100 portfolios an international survey of photographers sponsored by Eastman Kodak.
Skip Smith
Skip Smith retired from a career as Entomologist/Biology Professor in 2000 and has pursued his passion for photography since. His photographic training has come from several workshops, experimentation, and understanding that the most important equipment a photographer can have is a large waste basket.
He likes simple images that tell stories and most often works in series. Although time is fixed in all photographs it is often ambiguous in his work.
Skip's photographs are represented by Museo Gallery and he has had solo exhibitions in Museo and Brackenwood galleries in Langley, WA and 410 Gallery in Ellensburg. He has work in many group exhibits including Photo Center Northwest, WA, Gallery One WA, A. Smith, TX, Soho, NY and Blue Sky, OR galleries. His work has also appeared in several magazines and books.
Related Events
All sales are final on products purchased through the Griffin Museum. Participant cancellation of a program/lecture/class will result in a full refund only if notice of cancellation is given at least 2 weeks before the date of the event.