Curator Talk: Jessica Roscio, Curator at Danforth Art, discusses "Found in Collection: Contemporary Photography from the Danforth Art Museum Permanent Collection"
March 16, 2017 @ 7:00 pm

-

9:00 pm

$5 – $15
Curator Talk: Jessica Roscio, Curator at Danforth Art, discusses "Found in Collection: Contemporary Photography from the Danforth Art Museum Permanent Collection"
Historical and contemporary photographic narratives shape the two-part exhibition, Found in Collection: Contemporary Photography from the Danforth Art Museum Permanent Collection (on view at the Griffin in December 2016 and March 2017).  Jessica Roscio, Curator at Danforth Art, will discuss the exhibition, looking at contemporary photography through a historic lens, and how the selected works provide context for the collection as a whole.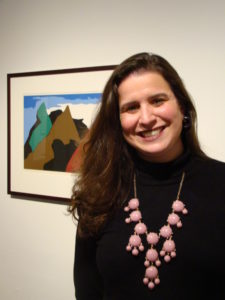 Bio: Jessica Roscio, Curator, Danforth Art
Since joining Danforth Art in 2011, Jessica Roscio has curated multiple exhibitions of contemporary photography, most recently, The Memory Palace: Domesticity, Objects, and the Interior and Beautiful Decay. Prior to joining Danforth Art, she held positions at the National Museum of Women in the Arts, Washington, D.C., and the Museum of Fine Arts, Boston.  She has taught courses at Emerson College and Suffolk University, and is a regular contributor to Aspect Initiative, an online gallery focusing on contemporary photography in New England.  Roscio has an MA in Art History from the University at Buffalo and a PhD in American Studies, with a focus on the History of Photography, from Boston University .

Image credit: David Prifti, Maple Noses, 1997, Photographic emulsion on wood, Collection Danforth Art, Gift of Sandy Lipson, 2010.52
Who's Attending
6 people are attending Curator Talk: Jessica Roscio, Curator at Danforth Art, discusses "Found in Collection: Contemporary Photography from the Danforth Art Museum Permanent Collection"
Related Events