Envisioning The American Landscape is a 9-session program designed for photographers who are interested in initiating, or currently working on, a body of work related to our relationship with the land – rural, urban, or suburban. The topic is intentionally broad to include diverse voices within a common theme. The American Landscape has been considered variously as a providential gift, a mythic wilderness, a spiritual embodiment, or a spiritless object to be tamed and exploited. It has been worshipped, built upon, and it has been spoiled.
This online course will offer a mix of readings for discussion, from early voices regarding the new continent and concepts of property, through the 19th century Emersonian understanding of our human relation to nature, to contemporary voices of both misgiving and continued wonder. We will look at a wide range of work from Carleton Watkins and Arthur Wesley Dow to Ansel Adams, Robert Adams, Lee Friedlander, Mark Klett, Sally Mann, and on into the 21st century to discover and understand our own influences. The objective of the course is to design, refine, discuss, and critique personal works in progress.
Monday Evenings, 6:30 – 9:00 pm Eastern Time
March 15 – May 17 2021 (no class April 5)
Online – Via Zoom
Limited to 10 students.
About the Instructor: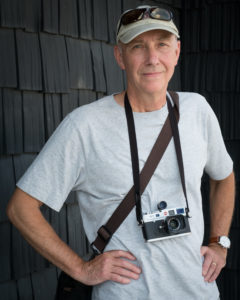 Bill Franson is a New England based Fine Art/Documentary Photographer, an Adjunct Professor at Gordon College, and a former instructor at the New England School of Photography. He has exhibited extensively on the national stage and has been selected three times to exhibit in the Danforth Museum's New England Photography Biennial. He presented Mason-Dixon: American Fictions at the deCordova Museum in January 2019 in conjunction with the exhibit Larry Fink: Radical Empathy. Bill's work is held in both institutional and private collections. He is represented by Gallery Kayafas, Boston. His website is www.billfranson.net.
Cover image © Bill Franson from Landscape in Blue courtesy of the artist and Gallery Kayafas.