Four of the contemporary photographers in our auction will discuss the threats and opportunities of our industry today facilitated by photographer Caleb Cole. Photographers Chehalis Deane Hegner, Raymond Thompson, Jr., Jennifer McClure and JP Terlizzi will speak to "what floats their boat" and "what keeps them up at night" in photography in the year 2020. All four photographers have donated delicious photographs to our auction that you might want for yourselves. Check into the auction site invaluable.com during the preview period to see for yourself. Event will take place on November 14, 2020 at 1:00 PM EST.
Chehalis Deane Hegner is a discipline fluid artist named in the 2018 and 2020 Julia Margaret Cameron Awards. Recipient of the Gjion Mili Photography Prize in 2010 (Kosovo), her portraits have been featured in both Christie's and Phillips catalogs. Solo and group exhibitions in the US and Europe include: The Catherine Edelman Gallery (Chicago) The Griffin Museum (MA), Photographic Resource Center (Boston), Art Institute of Boston, Maryland Art Place (Baltimore), St. Gauden's National Historic Site (Cornish, NH), The Cultural Center (Varigotti, Italy), Perspective Gallery (Evanston, IL), Interlochen Art Academy (MI), the MIT Museum (Cambridge, MA) The Rey Center; curated by Vicki Goldberg (Waterville Valley, NH), Institute of Contemporary Art (Portland, ME) and the National Gallery of Art in Kosovo. In 2005 Hegner received her MFA in Photography at Lesley University College of Art and Design (Cambridge, MA). She served on the faculty at University of Massachusetts at Lowell in the College of Art and Design until 2015. Hegner has held positions on jury panels, teaches photo workshops, and is a member of ASMP. Hegner is the co-founding director at Halo Hill, a newly founded cultural arts organization near Chicago. She has served on non-profit boards including The PRC (Boston University) the Hegner Family Foundation, and is currently an appointed Arts Commissioner for the City of Woodstock, IL.   photo © 2020 Chehalis Deane Hegner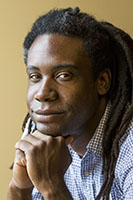 Raymond Thompson Jr. is a freelance photographer and multimedia producer based in Morgantown, WV. He currently works as a Multimedia Producer at West Virginia University. He is also pursing an MFA in photography from West Virginia University. He received his Masters degree from the University of Texas at Austin in journalism and graduated from the University of Mary Washington with a BA is American Studies. He has worked as a freelance photographer for The New York Times, The Intercept, NPR, NBC News, Propublica, WBEZ, Google, Merrell and the Associated Press.
photo © Raymond Johnson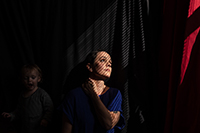 Jennifer McClure is a fine art photographer based in New York City. She uses the camera to ask and answer questions. Her work is about solitude and a poignant, ambivalent yearning for connection. The Leica Gallery in Boston will present a solo show of her work in April 2021. She was a 2019 and 2017 Critical Mass Top 50 finalist and twice received the Arthur Griffin Legacy Award from the Griffin Museum of Photography's annual juried exhibitions. Jennifer was awarded CENTER's Editor's Choice by Susan White of Vanity Fair in 2013 and has been exhibited in numerous shows across the country. She has taught workshops for Leica, Los Angeles Center of Photography, PDN's PhotoPlus Expo, the Maine Media Workshops, The Griffin Museum, and Fotofusion. Her work has been featured in publications such as NatGeo Travel, Vogue, GUP, The New Republic, Lenscratch, Feature Shoot, L'Oeil de la Photographie, The Photo Review, Dwell, and PDN. She also founded the Women's Photo Alliance in 2015. photo © Jennifer McClure.
JP Terlizzi is a New York City photographer whose contemporary practice explores themes of memory, relationship, and identity. His images are rooted in the personal and heavily influenced around the notion of home, legacy, and family. He is curious how the past relates and intersects with the present and how the present enlivens the past, shaping one's identity.
Born and raised in the farmlands of Central New Jersey, JP earned a BFA in Communication Design at Kutztown University of PA with a background in graphic design and advertising. He has studied photography at both the International Center of Photography in New York and Maine Media College in Rockport, ME.
His work has been exhibited extensively in galleries and museums across the United States and abroad including juried, invitational, and solo exhibitions. JP has received several awards and honors, including being recognized and named in The Critical Mass Top 50 (2019, 2018), Critical Mass Finalist (2016, 2015). Fresh Finalist (Klompching Gallery, 2019), First Look Winner (Panopticon Gallery, 2019), International Portfolio Competition Winner (Soho Photo Gallery, 2018). His work has been published in both online and print publications and is held in both permanent and private collections across the United States and Canada. JP is currently represented by Foto Relevance Gallery in Houston TX. Photo © Daniel Murtagh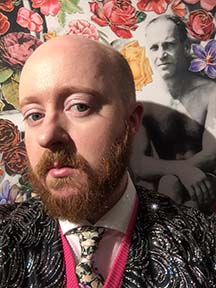 Caleb Cole was born in Indianapolis, and was a former altar server, scout, and 4-H Grand Champion in Gift Wrapping. Caleb's mother instilled in them a love of garage sales and thrift stores, where they developed a fascination with the junk that people leave behind. They are a 2015 Massachusetts Cultural Council Fellow, 2013 Hearst 8×10 Biennial Winner, 3-time Magenta Foundation Flash Forward Winner, 2011 St. Botolph Club Foundation Emerging Artist Award winner, 2011 Massachusetts Cultural Council Fellowship Finalist, 2009 Artadia Award winner, and a 2009 Photolucida Critical Mass finalist. Caleb exhibits regularly at a variety of national venues and has held solo shows in Boston, New York, Chicago, and St. Louis, among others. Their work is in the permanent collections of the Museum of Fine Arts Boston, Newport Art Museum, Davis Art Museum, Brown University Art Museum and Leslie Lohman Museum of Gay and Lesbian Art. They are represented by Gallery Kayafas, Boston.
For a four event package price of $40 see ticket below.