Join us on January 31st at 4pm EST for a special panel discussion about the life and legacy of John Brook. As part of our current exhibition, Return to Riverrun  we invite you to spend a Sunday afternoon with Thomas Adams, Lou Jones, Jessica Roscio and Gary Samson. 
This event is FREE to Griffin Members. Not a Member? Get more information about our Membership levels.
John Brook in Context
 In a 1973 interview, Steven Trefonides, a Boston painter and photographer, described John Brook (1924-2016) as the "father of all photographers" who started their careers in Boston in the mid-twentieth century. After graduating from Harvard, Brook opened his Newbury Street studio in 1946. At that time, photography was not considered art – but journalism. It was found in news media, books, and family albums, and rarely in museums, galleries, and private collections.  It was not considered art since it was created using a mechanical device — a camera — and could be easily reproduced.  This belief roiled Brook. He became a consummate artist, a Boston photographer with flair. Unschooled, his photographic talents were honed by taking thousands of pictures after being mentored by his father, who introduced him as a preschooler to photography — one of his dad's many hobbies.
After graduating from Harvard, Brook built his reputation in the seismic time after WWII. The 1950s were years of prosperity, conformity, and consensus; the 1960s were years of anger, protests, disillusionment, free love, and escapism; and the 1970s were years of national instability caused by a disgraced presidency, war antipathy, and a great recession. Brook had a message to share for those times. He said in an interview, "For me, photography is merely an extension of other things in life. It is very, very closely connected with my emotional life – my fantasy life." In those fantasies he depicted loving relationships that he hoped would inspire people to have their own uplifting fantasies.
Although Brook claimed that he was not influenced by other photographers or artists,   circumstantially, he was. A person is affected by the environment in which they grow – their family, friends, and the outside world. Brook was erudite, and inquisitive.  He had a voracious appetite for knowledge, and must have been aware of the photographic scene when growing up. His attributes were infused with compassionate sensibilities, mysticism, and the desire to be alone.  He was a mentor, an innovator, and a businessman.  He sold "unretouched" portraits, and exhibited unique photographs. Ansel Adams described them as "soft-focused techniques – anathema to the so-called purist – yet his photographs have persuasive power and great aesthetic quality."
John Brook said, "I am not a groupie. I am an eccentric. I am a member of the universe. I feel strongly very small, but nevertheless significant, in the functioning of the universe. I am… entirely on my own — not in collaboration with other people, not part of a group — but on my own, a single person.  I do not pretend that my influence can be an aesthetic one; it is not. I would prefer that it didn't.  My influence has been a personal one. I am here, and other people see: 'Well, if he can do it, I can do it,' and they do it in their own way."
Our panelists will discuss Brook's photography in context of the American culture, commercial portraiture, art history, his influence on the emerging Boston photographic community, and his fame as a nationally acclaimed photographer whose stunning imagery and message is being rekindled.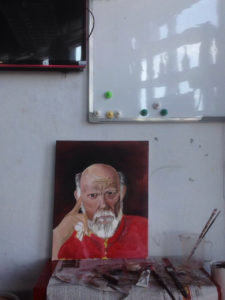 Thomas L. Adams will moderate this panel discussion. Adams is the former owner of an art gallery in Portland, Maine, founder of the Adams Center for Photographic Research and Study at the Institute of Art and Design at New England College, Manchester, NH, and President of the John Brook Archive.
Lou Jones, commercial and fine art photographer, Board member of the American Society of Media Photographers, and an Incorporator of the John Brook Archive, will discuss, what he describes as "the bizarre chain of events that everyone in my studio calls the LOU LAW. Although we did not know it existed at the time, a series of non sequitur events conspired to jumpstart my career as a photographer. I was introduced to John Brook's photography and it directly influenced a diversion from my original life path to the insane choice of photography. Even after John's death, I was tied to his memory over and over."
Jessica Roscio, Director and Curator of the Danforth Art Museum at Framingham State University, and a Brook Archive team member, will discuss how Brook's attention to the figure, human emotions, and the way viewers respond to the camera made his work unique among mid-twentieth century photographers, but also part of the Pictorial tradition going back to photography's earliest days.
Gary Samson, Professor Emeritus, New Hampshire Institute of Art, and New Hampshire Artist Laureate, 2017 – 2020, as well as a John Brook Archive team member, will talk about Brook's fresh, natural perspective on portrait photography in the early 1960s using available light and innovative compositions to create emotionally evocative images that often revealed intimate facets of the subject's personality. He will present Brook's images in context with other regional photographers of the era.