Photoshop 2 will build on the tools and techniques learned in Photoshop 1. This course includes advanced masking and compositing. Post production and creative techniques will be covered. It will also include instruction in channels and luminosity masking, technical selections using the pen tool, and advanced controls for custom brush techniques. Each week the first half of class will begin with a review by looking at work done by the students, with a question and answer session focused on problem solving and "how to" questions. The techniques shown each week will include both technical and creative use of Photoshop.
Prerequisite: Photoshop 1 or Photoshop experience using basic tools, Layers and Layer Masks.
Wednesday daytime  from March 31 – May 19, 2021
3 hours per week – 10 – 1 pm ET
Limited to 10 students
via Zoom
Member Price: $450
Non-Member Price: $500
Instructor Bio: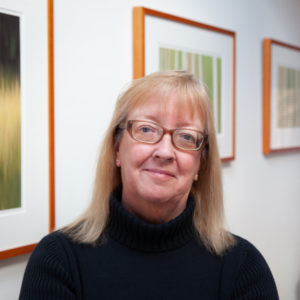 Sue Anne Hodges is a photographer and educator. Since 1992, Sue Anne has been exploring and using digital cameras and digital imaging technology. She studied this technology at the Center for Creative Imaging in Camden, Maine. Digital images from her early experiments have been included in Kodak's publication, International Photography, and one of the first exhibits of digital imaging —"L'Épreuve Numérique"— at the Centre National de la Photographie, Palais de Tokyo, Paris.
Sue Anne was the Director of Digital Imaging at New England School of Photography (NESOP). Her career began as an advertising photographer, helping to build and supervise an in-house studio for Lechmere, a retail chain store. This led her to teaching studio lighting at NESOP where in 1995 she helped them establish the digital imaging department and taught for the past 25 years. In 2011, 2012 and 2018 Sue Anne was honored to be one of 20 educators in the country to be invited by Adobe to attend the Adobe Educators Summit. She remains a specialist in Adobe Photoshop, Lightroom. and Digital Printing.
Her more recent photography has taken her out of the studio and includes a variety of projects including work for The Cultural Landscape Foundation, Down East Magazine, and Bar Harbor Chamber of Commerce. Sue Anne's personal work has been widely exhibited and for 15 years she was represented by Redfield Artisans Gallery in Northeast Harbor, Maine. She is splits her time between Mount Desert Island, Maine and West Newbury, Massachusetts.