Focus Awards Description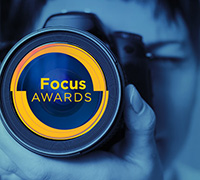 The Focus Awards recognize individuals making critical contributions to the promotion, curation and presentation of photography. The award is not meant for photographers for their art making, but for individuals such as photography educators, historians, gallerists, writers, curators, inventors, conservators and administrators who have elevated the medium of photography.
Focus awardees can be a combination of local, national and international photography trendsetters and innovators. The Focus Awards recognize the hard work, dedication and enthusiasm of a select group of enthusiastic, forward thinking individuals and organizations dedicated to the art and business of photography.
In our fourteenth year, this year's award celebrates individuals instrumental in building greater awareness of the photographic arts in the general public. We will present The Lifetime Achievement Award to Robert Klein and  the Rising Star Award to Arnika Dawkins.
The Focus Awards will take place on November 13, 2020 at 7 PM as part of our auction weekend that includes an award distribution multievent and a reception. The lectures and awards' event are virtual on the Zoom Platform and on the auction takes place on the Invaluable auction site.
As mentioned, this year Robert Klein, owner and director of the Robert Klein Gallery in Boston, will receive the Lifetime Achievement Award. Stan Trecker, Dean Emeritus at Lesley University, will present the award to Robert Klein.
We will also present the Rising Star Award to Arnika Dawkins, owner and director of the Arnika Dawkins Gallery in Atlanta, Georgia. Dr. Debora Willis, curator, photographer, author and educator will present the award to Arnika Dawkins.
After both of the award recipients accept their Focus Awards, Robert Klein will talk a little about the evolution of the photo market.  He will give an overview of where the photo market was in 1978 when he first became involved up to the present day impact of the Covid-19 pandemic. After, we will open up opportunity for the audience to ask questions and have dialogue.
2020 Focus Awards Press Release
No items found
The Focus Awards have been presented in the following categories: