Aqua Muse
Sue Michlovitz
September 7 – January 5, 2022
Statement
In Aqua Muse, Sue Michlovitz has used her images of water to represent the creative inspiration and mysteries within the medium. Water provides both solace and excitement for her being. She has selected the accordion structure to express flowing of water. Within the accordion structure, she has sewn in four signature inserts of water scenes in varying color palettes. The book has 30 original digital photographs printed on Hahnemuhl Photo Rag Duo using archival inks. This book was made with the design assistance of Eliot Dudik, during a two-week workshop at Maine Media Workshops & College, July-August 2021.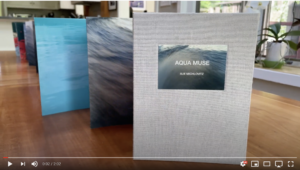 Through an artist book, Michlovitz expresses her images in a form that can be viewed, and handled, two essential sensory experiences for me. The viewer can turn pages at their own pace and have space and time to absorb the content, leave it open to study when walking by the table. The printed book form is particularly potent as an alternative to the world hyper-stimulation, computer screens and superfluous movement. She creates a physicality of experience within the presence of images, including the sound and feel of turning pages. Click video to left.
Bio
Sue Michlovitz is a visual artist living in Camden, Maine. Her interests as an artist are in photography and book arts. Her work often shows scenes that may go unnoticed by others.
She has shown her photographs at State of the Art Gallery ( Ithaca, NY), Camden Public Library (Camden, Maine), Arts in the Barn, Cushing Historical Society (Cushing, ME). Two of her books, Breathe in Water andWe Were Told to Be Quiet are currently being shown with the Mid-Coast Maine Book Arts Group at the Michael Good Gallery (Rockport, ME)
In May 2021, Michlovitz completed her Master of Fine Arts (MFA) in Media Arts at Maine Media College, Rockport, ME.