The Shelfie
Various photobook enthusiasts
April 19 – May 30, 2021
This virtual exhibition is meant to run a bit before and after our virtual photobook program that runs May 13th through 17th 2021.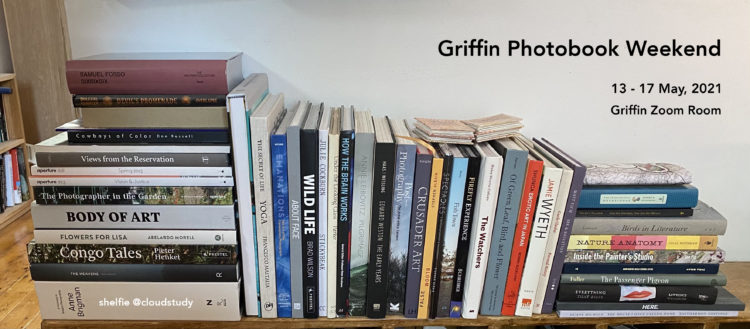 Call For Entry
We are requesting that you send us your "Shelfie." Last day to submit your "Shelfies" to us is Sunday, April 18, 2021. You can start sending them now.
A "Shelfie" is a photograph of your photobooks on your bookshelves. We don't think "Shelfie" is a real word. We just thought it was a good word to use for a portrait of your photobooks on shelves. The above photo is an example of this author's book shelves. This book shelf is next to the bed where she often falls asleep looking at photobooks or books that help her to think about photographs.
We will publish all the "Shelfies" sent to us here in our Cloud Gallery and on our instagram page. Let's have some fun!
Send your one "Shelfie" per submitter to crista at griffinmuseum dot org. Send as an rgb jpg file. Send the file 1200 px longest way. Name it with your last name first name. Put "The Shelfie Call" with your last name then first name in the subject. (This is so we can find you quickly in our email and file storage.)
One caveat to all this fun is that we have the right to not publish inappropriate content. We've done this long enough to know we have to say this. 😉