As part of our series bringing the Griffin exhibitions off the walls and into your devices via the inter webs, we bring you the second in the series from our Photobook Exhibition, curated by Karen Davis and Paula Tognarelli.
Today's books focus on the views of our humanity.
Oliver Klink – Cultures in Transition
Where did the idea for the book come from?

The book was 15 years in the making and the concept simmered over time. Going thru 1/2 million images, I and my publisher (True North Editions) found that the people I photographed had deep stories to share. As the title evokes, their life were in transition, they didn't foresee the changes, slow or rapid in some cases. I experienced and observed people's concerns about how 'progress' can create disconnection and alienation between themselves and their communities. Their guiding lights kept them grounded.
What would you like us as viewers to take away from your after seeing your work and words?
In a way, a photograph is a kind of time travel: it transcends geography and culture to share a moment, however brief, of true connection. I hope this collection can transport you as well. While the lives I captured are diverse, each brimming with its own unique vibrancy, I believe the photographs are all attempting to tell the same story: the Spirit, Heart, and Soul of us all.
What is your next project?
I am producing a film "Aimuldir – The Soul of the Burkitshi" that will be released at the Asian Art Museum San Francisco in October 2020. Mongolia is this vast country, knowns for its long cold winters and short cool-to-hot summers, its breath-taking sceneries ranging from deserts to the high mountain ranges. It is not uncommon to travel for days and not meet a human being, especially in Western Mongolia, the land of the Kazakh people, the largest ethnic minority in Mongolia. The Kazakhs are nomadic people, with deep traditions of "making things only with the land" and hunting with golden eagles. They are known as "Burkitshi" (eagle hunters). Their tradition, passed on from father to son was on the brink of disappearing, until the young women started to reshape the tradition and brought their Soul to the art of hunting with eagles. Meet Aimuldir, a 9 year old girl: she is fearless; she loves her eagle and her horse; and she is ready to face adversity to be a Burkitshi. As her father says: "She has a long road ahead of her, she has to learn, and she needs luck." This is her story!
Artist Statement: Cultures in Transition explores the changes that people go through, the subtleties that make their life evolve, their spiritual guiding light. Oliver Klink photographed environmental portraits of the continuity between family, work, and spirituality over 15 years, in 5 Asian Countries (Bhutan, Myanmar, Mongolia, China, India). There was no separation, but peoples' concerns about how 'progress' can create disconnection and alienation between themselves and their communities became more evident. This fluidity of life is at the core of Cultures in Transition.
"Klink's pictures are dreams manifest – they become representations of our past, present, and future. His photographs are of exotic places and people, yet they connect deeply to what it means to be human. They are about survival and hope. They are about the Spirit, Heart, and Soul in us all." Geir Jordahl, True North Editions.
Bio: Oliver Klink studies in physics and photography were the catalyst for his love of light and the complexity of our existence. He captures our cultural changes, the environments we inhabit, and the insights into the modern world constantly unfolding in new and unexpected ways.
Klink was awarded Black and White Photographer of the year 2018 by Dodho Magazine, selected as Top 50 Fine Artist by Critical Mass (Photolucida) in 2016 & 2018, received the Spotlight Award by Black and White Magazine (2018). His book, Cultures in Transition, won eight awards for best photography book of 2019.
Klink solo shows include:  the Middlebury Institute of International Studies, Monterey, California; PhotoCentral Gallery, Hayward, California; Pictura Gallery, Bloomington, Indiana; Camerawork Gallery, Portland, Oregon; BWGallerist, RedFilter Online Gallery; Galerie Shadows, Arles, France; Conti Museum, Buenos Aires, Argentina.
To see more of Oliver Klink's work log onto his website.
Cultures in Transition:
Spirit – Heart – Soul
12 x 13.25"   168 pages   108 images
Editor: Geir Jordahl (True North Editions
Designer: Kate Jordahl (True North Editions)
Foreword: Anne Wilkes Tucker (Curator Emeritus: Museum of Fine Arts Houston)
Afterword: Peter Finke (Professor for Social Anthropology, University of Zurich, Switzerland), Printed in Bolzano, Italy by Longo SPA AG
$95
Julie Mihaly – The Attic & Radius: One Year, Five Miles
Not long after my siblings & I moved my mom, who had Alzheimer's, from Virginia to assisted living in the Hudson River Valley, I moved from New York City, where I'd lived for 33 years, to Poughkeepsie, NY to be closer to her & to help with her care.
Thanks to my time at Vassar College, located in Poughkeepsie, I had a basic knowledge of the area, but the city had changed considerably in the ensuing decades. I began, with no particularly focused intention to walk around my new home, finally creating a body of work made over the course of a year that I called Notes in Passing.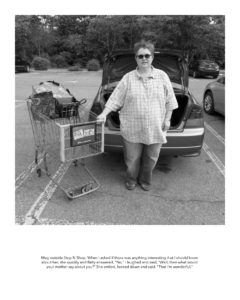 Interestingly enough, I found that in all the images I shot for Notes in Passing, there was only one that contained a person, & even then, the person was far away & very blurry.
So I decided that my next project should feature people, in fact, as many of the people I encountered within a 5-mile radius of my home as would let me photograph them. Thus began Radius: One Year Five Miles.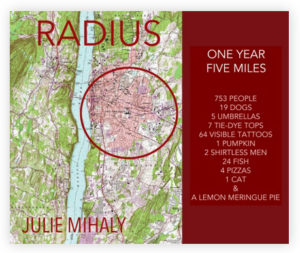 Some of the folks I approached declined my request, but over 750 acquiesced with kindness, support & good humor. Some also shared bits of information about themselves. All revealed the strength, diversity & uniqueness of the community I call home. They taught me that assuming anything about someone merely from how they look can be a sad mistake & that there is a universality in the challenges that life throws our way.
To everyone who helped me create Radius: One Year Five Miles, I thank you & will never forget you.
NOTE: The project that followed Radius: One Year Five Miles became the 2nd book included in this exhibition:The Attic, described below: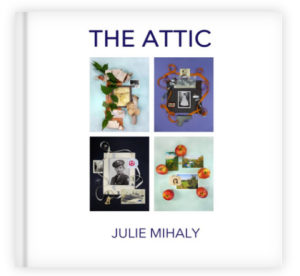 Artist Statement: When my mom, who had Alzheimer's, died, I stored the possessions of hers that were hardest to part with in my attic, which also holds the remnants of my own past lives. "The Attic" is my effort to record and honor the people, places and influences represented by all that I've stashed on that echoey top floor.
Bio: Julie Mihaly earned her BFA & MFA in photography from The San Francisco Art Institute before teaching undergraduate & graduate photography at NYC's School of Visual Arts, The Mason Gross School of Art at Rutger's University & The Nova Scotia College of Art & Design. Mihaly spent over two decades working as a photo director, editor & researcher at magazines such as Vanity Fair, Entertainment Weekly, Garden Design, et al.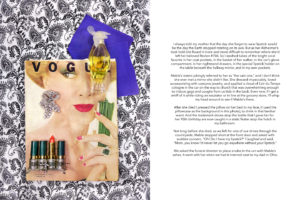 She has shown her photography throughout the U.S. in solo & juried exhibitions, including winning one of four WorkingArtist.org photography awards in 2018 as well as first prize in Soho Photo Gallery's 2019 Annual Juried Exhibition. Four books of her work have been published: She Began to Realize (funded in part by the NEA), The View From Here, Radius: One Year Five Miles, & The Attic.
Mihaly lives in the Hudson River Valley where she continues her work.
To see more of Julie Mihaly's work log onto her website.
The Attic
2019
70 pages  30 images
12 x 12"  Hard Cover
Blurb   $85
Radius: One Year, Five Miles
2019
74 pages   576 images
Soft cover
Blurb  $91
Tetsuro Miyazaki –
Hāfu2Hāfu – a Worldwide Photography Project about Mixed Japanese Identity
Where did the idea for the book come from?
"Where are you from?" or "Where do you belong more?" are questions that I have heard for as long as I can remember. Growing up in a mixed Belgian Japanese home in Brussels (Belgium) I have always identified as 'hafu' or 'half-Japanese'. In 2016 I decided to compare my personal experiences with those of fellow mixed Japanese people from around the world. At the end of a one hour talk, we try to boil down the conversation into one main question that they want to ask you, the viewer.
What would you like us as viewers to take away from your after seeing your work and words?
The project is aimed to create a sense of belonging for people with mixed (Japanese) roots and I want to represent them in all their diversity. By sharing questions instead of anecdotes, the project encourages viewer to think about their own identity and engage in a convesation about identity, without prejudice.
What is your next project?
I wanted to work on a new Mixed Roots Identity project, but being stuck at home, I decided to pick up my camera to photograph people in my town. The project is called #SafeBehindGlass (#VeiligAchterGlas in Dutch) as this is where everybody is these days: home, behind the window.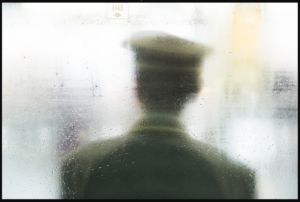 Artist Statement: Hāfu2Hāfu is an ongoing worldwide photography project exploring what it means to be hāfu – a person with one Japanese parent. Japanese-Belgian photographer Tetsuro Miyazaki has interviewed and portrayed fellow Japanese hāfu, with a parent from nearly 100 different countries. The 120 people in this book do not answer questions but ask them: each hāfu poses a question to you, the viewer. With these questions, Hāfu2Hāfu is creating dialogue and stimulates self-reflection about identity, so that we can find answers of our own.
Bio: Tetsuro Miyazaki is a half Belgian and half Japanese photographer, based in the Netherlands. He grew up in Brussels and spent most of his summer holidays with his family in Japan. For most of his life, he has identified as 'hāfu' or 'half Japanese'.
After his first year as a full time professional portrait photographer (2016) he decided to compare his experiences with 192 Japanese hāfu: one from every country in the world. This resulted in Hāfu2Hāfu; a photographic project in which he investigates what it means to be hāfu. By portraying and interviewing other hāfu and by sharing their unique identity related question to you – the viewer – we create a dialogue about identity and stimulate self-reflection. He has currently photographed 150 hāfu from 98 different countries.
For more information about Tetsuro Miyazaki  work, log onto his website.
Hāfu2Hāfu – A Worldwide Photography Project about Mixed Japanese Identity
2019
Foreword by Duncan R. Williams
Introduction by Nina M. Cataldo
18″ x 24″ (unfolded)/ 9″ x 4″(folded)
Number of pages: 152
Number of photos: 120
Soft Cover
Price:  $34(US)
Robert Pacheco –
Downtown LA: Who Needs It? Street Story of a Fading Era – Early 1970's
I'm a freelance photographer living in the Los Angeles area.
In the late 1960's in now defunct Swiss magazine Camera I became aware of the work of W. Eugene Smith, Henri Cartier-Bresson, Brassaï, Eugene Atgét and others. I was blown away by their artful, straightforward, humane way of making a story telling photograph.
I eventually purchased a 35mm SLR camera. The streets of downtown Los Angeles became my outdoor photography classroom. Through trial and error my photography career began.
This book is a photo and written memory of street life scenes. After World War II the population of Los Angeles exploded. Resulting in the growth of suburbs and shopping malls. The center of the city slowly became a remnant of the city of Los Angeles. 1970's downtown had been neglected for many years, but it was a twinkle in developers' eyes. Though in its last hurrah it was not a dead zone, but a community for families, neighbors, long-time residents living in the inner-city.
I've photographed for publications, book, corporate, industrial, health care, education and non-profit foundations. From oil rig workers in the Gulf of Mexico to corporate executives to river rafting blind teenagers to artists in China. Many other people and situations, including for myself.
I was born and raised in Los Angeles, now living about 20 minutes from downtown.
DOWNTOWN L.A. WHO NEEDS IT?
My fascination with Downtown Los Angeles began when as a child I would go with my mother department store shopping. Clutching my mothers hand we'd fast walk from store to store among the many shoppers on the sidewalk. For a little kid it was a whirl wind adventure shopping tour of downtown. Eventually my mother stopped going downtown. Not certain why, but now realize it may have been because the city shopping center was in unkept decline.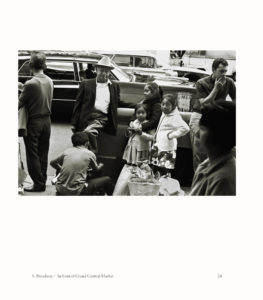 After World War II the city exploded outward leaving behind unwanted remnants of a past city. People moved from the city proper to growing suburbs. With the arrival of shopping malls began the creeping neglect of downtown. By the 1970's, in its last hurrah, old time downtown was a twinkle in the eye of developers. Although still a lively shopping neighborhood for many that lived in and around the inner-city.
In the beginning when photographing downtown street life I was not aware that these were days nearing a final chapter of the old time center of Los Angeles. To me it was a vibrant mixture of people, sounds, smells. A sense of city more so than any other community in sprawling Los Angeles. A unique city character, not a dying zone.
Walking around downtown, off and on, for about three years, I became aware of plans for downtown's forsaken infrastructure. A long time residents future hope for downtown perhaps best described by a friendly newspaper vendor on Broadway. He mentioned an article about plans for bringing people back downtown and reconstruction of the whole central city by 1990 that appeared in the morning Los Angeles Times. He said, "There's enough people down here already. I'm glad I won't live to see it, but I would like to see them rebuild for those of us who have been here all these years."
As happens, gentrification brings with it a soaring cost of living eventually displacing current residents. Urban renewal set in motion, shopping dwindled as department stores closed their doors. In 2020 'reconstruction' of the central city is still a work in progress.
The photographs in this book were made by a novices trial and error, but now a memory of a fading era.
What is your next project?
Irony : During this time of world wide pandemic fear and suffering
I've an ongoing series. Masked Unmasked. Scenes of people in straightforward, unstyled, unrefined masked moments, without the facade often presented to the world. Whether shy or outgoing there's no risk or vulnerability. These somewhat everyday situations become odd when hiding behind an artificial face.
They are not masked fantasies, ritual, celebration or ceremony. Just a peek at our other selves. A face behind a face. Perhaps a touch of drama or humor. Along with a straightforward unmasked portrait.
Masked Unmasked seems so trivial now when masked is a life saver, is distress, is isolation and unmasked is distress and isolation too.
Time to rethink or put the series to rest.
To see more of Robert Pacheco's work log onto his website. 

Downtown LA: Who Needs It? Street Story of a Fading Era – Early 1970's
2019
7 X 8"  60 pages  51 photographs
soft cover  A&I Fine Art & Photography
$45
Tony Schwartz – Stories of the Batwa Pygmies of Buhoma, Uganda
Where did the idea for the book come from?
I am a veterinarian, and probably because of this, I always have had an interest in wildlife photography. In 2006 I was fortunate to be able to photograph the "Critically Endangered" mountain gorillas in the Bwindi Impenetrable National Park, a dense forest in southwest Uganda. I entered the forest from Buhoma, a village near one of the entrance gates. During that same trip I met some Batwa Pygmies, ancient hunter-gatherers who had lived traditional lifestyles for millennia in the same forest. They then resided in Buhoma, and were said by the tour guide to be happy not to be living in the forest any longer. This was belied by their demeanor and living circumstances.
There have been efforts to protect the gorillas, and ecotourism has provided money to hire rangers to ward off poachers, and "Gorilla Doctors" to try to deal with diseases and injuries. As a part of this effort at gorilla protection and conservation, The Batwa Pygmies were forcibly evicted from the forest in 1992, when it was designated a World Heritage Site and was named a National Park. The Ugandan government has given the Batwa no reparation, jobs, or housing assistance, nor income from the ecotourism industry. They also could no longer hunt or gather in the forest.
The eviction has had a devastating and lethal effect on the Batwa and their culture. In the year 2000, co-author Dr. Scott Kellermann, a Christian Medical Missionary, found that 8 years after the eviction, 38% of the Batwa children died before their 5th birthday, translating to a life expectancy of only 28 years. Their annual mean income was $25. Despite improvements in their condition since then, they remain classified as "ultra-poor," i.e., they live on less than $0.80 per day.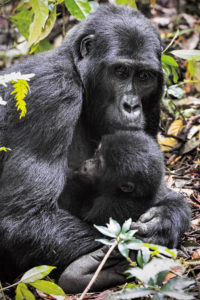 I had read about the conflict between animal protection and the Maasai in Tanzania, which had a similar impact on that tribe of people. And after meeting the Batwa in 2006, I wanted to learn more about them, show and tell the story of these diminutive people, and the impact on them of the eviction. I had the opportunity to do so when I returned to Uganda in 2017. I once again photographed the mountain gorillas but I also had had meetings set up with the Batwa; I interviewed nine of them, who gave accounts of their previous way of life, told a story derived from their ancient and rich oral history, and reported the impact the eviction has had on their lives and culture. The concept behind my approach is that the story of a people is best told by compiling stories of individuals, rather than reporting a summary. Photographs of the Batwa were acquired during the interviews, and as they demonstrated how they previously had existed in the forest. These images and narratives document both sides of the thorny question of how best to protect endangered wild animals. On the one hand, the population of mountain gorillas has increased associated with their protection. They remain "Endangered," but are no longer considered "Critically Endangered." On the other hand, this has come at great expense to the Batwa Pygmies.
What would you like us as viewers to take away from you after seeing your work and words?
I wish the reader to meet, see and learn about the Batwa Pygmies. I also wish them to meet the gorillas, and appreciate the need to protect endangered animal species. But they should coe to understand that in the process of protecting the animals, the people to be affected by animal protection, who often are of an indigenous culture, must be considered at least as carefully and well as non-human animals – both are precious. The reader should please know that 100% of the money from sales of the book, through either the publisher (BookBaby) or (Amazon), go to the support of the Batwa, through the Kellermann Foundation. Please note that nearly twice the money will go to the foundation via a BookBaby purchase than if purchased through Amazon.
What is your next project?
My work shown in the Atelier 31 exhibition, on the walls of the Griffin Museum at the same time as this photobook show, is the first stage of my next project. That is, a photo essay, and perhaps a book, on Boston's Chinatown, the last truly ethnic enclave in Boston.
Chinatown is in danger from incursion, lack of adequate affordable housing and gentrification. Again, I am attempting to tell the story of individuals, in this case Chinese immigrants, who, like other immigrants to our nation, have enriched it and made it stronger. The stories of their successes and those of their children and grandchildren, along with portraits of the interviewees and photographs of the environs, will be the substance of the project, when finalized.
The coronavirus outbreak has temporarily stopped the project, as I have been unable to continue my interviews with the people living in Chinatown and/or closely associated with it.
Anything else you'd like to add about your process or series, feel free to add so I can make a fuller post about your work.
In 2006, my wife Claudia and I visited Buhoma, which is a village in Bwindi, in far southwestern Uganda. The village was undergoing growth, and gorilla ecotourism clearly was a part of the business enterprise of the village at that time. While there, we entered the Bwindi Impenetrable National Park to trek to see and photograph the gorillas. We serendipitously also met two young men who lived in Buhoma, Musinguzi Denis, who was 11 years old at the time, and Musinguzi Amos, then 16 years old (not related, but with a similar tribal background). These two young men made themselves known to us. We developed immediate relationships with them and decided to help them go to school. The local school systems are marginal and this meant sending them to boarding school as a start. We have since had an enduring relationship, and we continued to support the two young men through school.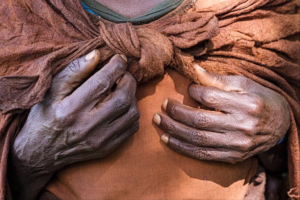 In December 2017, we again visited Uganda. The primary reason was to attend Amos's graduation from the International Health Sciences University in Kampala, the Ugandan capital, with a Bachelor of Science in Nursing. Amos told us that he was the first person in his village to attain a BS degree. He now is doing an internship in Kampala and is pursuing an MS degree in public health – in his internship he now is on the front line of fighting the Covid19 epidemic there. Denis finished his nursing certificate recently, and now has opened a clinic for the poor in Buhoma. He is waiting for the epidemic to hit there. It is noteworthy that gorillas are susceptible to coronaviruses, so this pandemic could be devastating both the people and the gorillas.
After the graduation we returned to Buhoma, to again trek to see the gorillas, which indeed had prospered since the World Heritage site had been established.
We also were honored to meet and share a meal with members of both Amos's and Denis's families in their homes. They are among the warmest and friendliest people we have ever met. It was one of the great honors and experiences of our lives.
As noted, another major reason for my return to Buhoma in 2017 also was to meet more closely, photograph and converse with the Batwa Pygmies, to better understand their current lives and their background in the forest. At my request, Amos had arranged for Denis, me and him to spend portions of two days with the Batwa, both in a forested mountainous region outside the national park, and in the Buhoma Batwa settlement.  In each case, Busingye Levi, was our guide and on-the-spot translator. Levi is the Manager of the Batwa Development Program, which is funded by the Kellermann Foundation. He had prepared the Batwa for our visit, informing them that i wished to photograph and interview them.
During our 2017 stay in Buhoma we were also very fortunate to meet Dr. Scott Kellermann. In 2001, Scott and his wife Carol settled in Bwindi, Uganda as missionaries of the Episcopal Diocese of Dallas. There, while serving as a consultant to the Bwindi Community Hospital, which he established, Scott surveyed the health status of the Batwa, and then worked among them to deal with their medical needs. In 2004, Scott and Carol established the Kellermann Foundation, which is dedicated to supporting displaced Batwa Pygmies in all areas of development (through the Batwa Development Program) and to providing high-quality healthcare to the Batwa and their neighbors in southwest Uganda.  In 2013 he founded the Uganda Nursing School in Bwindi.  Scott considers that perhaps his "best accomplishment is getting people from all walks of life to collaborate on a project on the other side of the globe."
Dr. Kellermann purchased 100 acres of old growth forest, adjacent to the Bwindi Impenetrable National Park, in order to establish a "living history" site where the Batwa's rich heritage could be preserved. Working with the Batwa elders, traditional huts and religious sites were created. The name chosen by the elders was the "Batwa Experience." They agreed that this would become a venue where Batwa children would be taught the ancient ways of life in the forest. The site also has become a source of tourist income for the Batwa. It was the location for the first day of our interviews. The Batwa welcomed us by singing and dancing, and they were very willing to be photographed and to have their stories video-recorded. This was an experience of a lifetime.
Over two days I interviewed and photographed nine of the Batwa, in eight instances asking questions through Levi.  The youngest Batwa interviewed, Tumubweine Elizabeth, speaks English, so her story required no translation. Through Levi, I informed the Batwa that their images would be shown and their stories told in the United States.  Some videos also were made of the interviews, by Denis, and my son Eric, who was present for half of them. Amos also took notes during the interviews, and later translated the videos into English.  The written notes and translated video transcriptions served as the sources of the narratives from the interviews, which are replicated in the book.
Bio: Tony Schwartz was born in New York City.  Before devoting himself fully to photography, he was an academic veterinary surgeon and immunologist, on the faculties of the Ohio State University, Yale University School of Medicine, and most recently, at the Tufts University's Cummings School of Veterinary Medicine, North Grafton, Massachusetts, until retirement in 2005. He resides in Boston, Massachusetts and Peru, Vermont.
Tony has been involved in art all his life, including drawing, oil painting and clay sculpture. Since retirement, his artistic passion has been photography, associated with photo-education at the New England School of Photography, workshops and photographic tours. Tony has had several solo exhibitions of his work, and has been in many juried, curated and invited national and international exhibitions. He has received awards for his photography, is a juried member of the Copley Society of Art, Boston, and is represented by the 3 Pears Gallery, Dorset, Vermont.
To see more of Tony Schwartz's work, log onto his website.
Tony Schwartz –Stories of the Batwa Pygmies of Buhoma, Uganda
Musinguzi Amos, Coauthor
Scott Kellermann, Coauthor
2019  8.5 x 11"
76 pages  56 images   Soft Cover
Bookbaby
$35