Griffin Museum of Photography
11 May – 17 May, 2021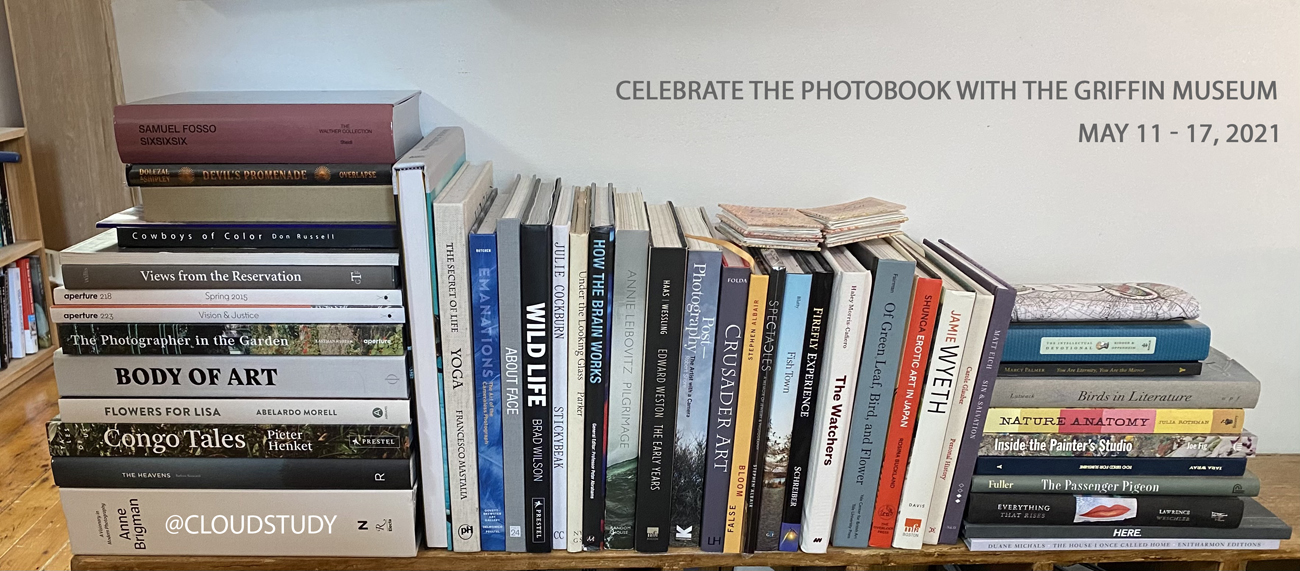 Celebrate the creativity and artistry of the Photobook at the Griffin in a series of conversations with independent publishers and creators in May!
The Griffin Museum of Photography in Winchester, Massachusetts is highlighting the enduring creativity of the Photo Book! We have invited independent publishers and creative artists to share their work, from concept to completion. As a series of online talks and panels hosted by the Griffin Museum, this weekend of programming provides an in depth look at how Photobooks are made and the artists and craftsman who make them.
We start the week off on May 11th with a special presentation from artist Linda Connor. Thursday May 13th highlights the new work of Mary Beth Meehan and Fred Turner, Seeing Silicon Valley published by the University of Chicago Press.
May 14th begins with a presentation by Jennifer Yoffy of Yoffy Press followed up by artist talk by photographer and multimedia artist Debi Cornwall, whose latest book Necessary Fictions, produced by Radius Books, has been nominated for the Deutsche Börse Photography Foundation Prize and shortlisted for the Recontres de la Photographie d'Arles Photobook Prize. Prior to Debi Cornwall's talk we will hold a opens in a new windowShelf Talker Photobook Social Hour at 6PM ET.
Saturday May 15th we are thrilled to support the independent press houses Daylight Books, +Kris Graves Projects, Peanut Press and Too Tired with online conversations introducing their artists to a wider audience and asking questions about the process of book making.
Sunday May 16th we start our day with Martin Schilt and J. Sybylla Smith in conversation, Emily Sheffer of Dust Collective and see panel discussions from Mark Alice Durant discussing his independent press St Lucy Books, 21st Editions with J. Sybylla Smith and Datz Press.
Caleb Cain Marcus, Creative Director of Luminosity Lab on Monday May 17th covering the esthetics and creativity of book design.
Throughout the week we have interviews with artists making books like Isa Leshko, whose book Allowed to Grow Old was a labor of love and ingenuity to getting published by University of Chicago Press. We talk with her in depth on Monday May 17th about that journey.
In the month of May leading up to the event and throughout the weekend we will showcase The Shelfie of artists and book collectors around the world on our social media feeds and in our virtual Cloud Gallery on our web site. Images of bookshelves will fill our feed and programming exploring the personal and eclectic tastes of book collectors. Read about our call for entry for The Shelfie. Deadline to submit a "Shelfie" is April 18, 2021. You can start sending them now. The Selfies will all be up on the website on April 19, 2021 and will run through May 30th.
Event Listings –
Thursday May 13th –
7pm – opens in a new windowMary Beth Meehan & Fred Turner
Friday May 14th –
2pm – opens in a new windowYoffy Press with Jennifer Yoffy
6pm – opens in a new windowShelf Talkers Social Hour
7pm – opens in a new windowDebi Cornwall
Saturday May 15th –
1pm – opens in a new windowDaylight Books with Michael Itkoff
3pm – opens in a new windowPeanut Press with Ashly Stohl and David Carol
5pm – opens in a new windowToo Tired with Kelly Burgess
7pm – opens in a new window+Kris Graves Projects
Sunday May 16th –
11am – opens in a new windowSchilt Publishing with Martin Schilt with J. Sybylla Smith
1pm – Emily Sheffer of opens in a new windowDust Collective
3pm – opens in a new windowSt. Lucy's Press with Mark Alice Durant
5pm – opens in a new window21st Editions with Steve Albahari interviewed by J. Sybylla Smith
7pm – opens in a new windowDatz Press with Sangyon Joo
Monday May 17th –
2pm – Alexa Becker, Kehrer Verlag
5pm – opens in a new windowCaleb Cain Marcus
7pm – opens in a new windowIsa Leshko
Get on the list to be informed – send an email to crista (at) griffin museum (dot) org to be notified as soon as these events open up for ticketing.
For more information about the Griffin Photobook Weekend, the featured publishing houses, the artists being showcased, the Shelfie Call For Entry or the Griffin Museum please contact us at 781.729.1158 or online at griffinmuseum.org