We are honored to have an esteemed group of reviewers for the New England Portfolio Review 2022. This list is subject to change.
Art Galleries
Camilo Alvarez, Samsøñ Projects, Boston, MA
Camilo Alverez is the owner, director and preparator at Samson Projects, founded in 2004 in Boston Massachusetts. Alvarez received his B.A. in Art History from Skidmore College, and his masters in Liberal Arts of Museum Studies from Harvard University. Before founding Samson projects, Alvarez worked at Exit Art, Socrates Sculpture Park, MIT's List Visual Art Center and the Skowhegan School of Painting & Sculpture. Additionally he is the Co-Chair of the advisory board at the Institute of Contemporary Art in Boston. His most recent work at Samson Projects includes placing artwork in the permanent collections of several distinguished institutions such as, the Leslie Lohman Museum of Gay and Lesbian Art, the Perez Art Museum Miami, the Museum of Fine Arts Boston and the Institute of Contemporary Boston.

Karen Davis, Davis Orton Gallery, Hudson, NY
Karen Davis's work is featured at the Massachusetts Museum of Contemporary Art (MASS MoCA) and in the collections of Center for Photography at Woodstock (CPW) at Samuel Dorsky Museum of Art; Lishui Museum of Photography (China); Houghton Rare Books Library, Harvard University and corporate and private collections. Her word and image book, Still Stepping: A Family Portrait, was published in 2020. Davis, of Hudson NY, is a Critical Mass 2018 finalist and recipient of the 2009 Artists Fellowship Award-CPW. Her photographs and artist books have appeared in numerous solo and featured exhibits throughout the country including her project, The McCann Family, at Griffin Museum of Photography. 
Karen is curator/co-founder of Davis Orton Gallery in Hudson NY, now in its twelfth year, where they exhibit photography, mixed media and photobooks. She was a longtime teacher of Photography Atelier which began at Radcliffe Seminars, Harvard University, continued at Lesley Seminars and now is at home at the Griffin Museum of Photography. She has taught other photo-based and word and image art courses at the Art Institute of Boston/Lesley University, Tufts University's X-College and Suffolk University. Davis presently teaches Portfolio Development and Marketing online for the Griffin.

Michael Foley, Foley Gallery, New York
Michael Foley is the founder of Foley Gallery located in New York. Prior to opening Foley Gallery in 2004, he worked with notable photography galleries including Fraenkel Gallery, Howard Greenberg Gallery, and Yancey Richardson Gallery. In 2009, Foley co-founded the Exhibition Lab; an intensive art making and studying space for people interested in the photography and fine art realm. He founded the Photo Community, which houses workshops and educational experiences for photographers. His passion for education is further exhibited as he is a part of the faculty at the School of Visual Arts and at the International School of Photography. It is through his lectures and workshops where he teaches on current issues in contemporary photography. Alongside these experiences, Foley was a practicing art himself, focusing on collage, photography, cut paper and painting, and is currently exhibiting in galleries in the United States and Europe.

Frances Jakubek, Director of Exhibitions, Bruce Silverstein Gallery, New York
Frances Jakubek is a photographer, independent curator and all around advocate for photography. She is the Director of Exhibitions and Operations at Bruce Silverstein Gallery in New York City and past Associate Curator of the Griffin Museum of Photography in Massachusetts. Recent curatorial appointments include shows at Bruce Silverstein Gallery, The RefridgeCurator, Umbrella Arts NYC, 'The Fence' and PDN's 'The Curator Awards'. Personal works have been exhibited at The Southern Contemporary Art Gallery in Charleston, SC; Filter Space; Chicago, IL; and The Hess Gallery at Pine Manor College, MA

Arlette Kayafas, Gallery Kayafas, Boston, MA
Arlette Kayafas opened Gallery Kayafas in 2003 in Boston's then new gallery district in the South End. The gallery exhibited photographs from renowned photographers often pairing them with new emerging artists. Kayafas and her husband, Gus, have been collecting photography for more than five decades and the gallery only shows work that she would consider adding to the collection. 
In 2012, the gallery expanded its programming to include contemporary paintings, installation, works on paper, sculpture, and video while maintaining its focus on photography. 
Kayafas believes that the work shown in the gallery must engage perceptually while having a rigorous underlying message – the artist's voice.  Arlette selects artists who have strong insights and are committed to articulating them through their work. One of the gallery's missions is to offer a platform for the artist to be heard and visitors to have an experience which brings about thoughtful attention.
Anne Kelly, Photo-Eye, Santa Fe, NM
Anne Kelly is the Director of photo-eye Gallery in Santa Fe, NM and has been with the company since 2006. Her interest in photography developed at an early age, influenced by her mother's love for the medium. Originally from Colorado, she moved to Santa Fe to further her studies in photography under the direction of David Scheinbaum at the College of Santa Fe, where she received her BFA. Kelly ls particular interested in photographic works that employ the use of alternative processes in contemporary work, magical realism, and images that invoke emotion and stimulate the imagination.
As a Gallery Director, she is a ​a juror for photo-eye's online Photographer's Showcase and Art Photo Index. Kelly has been attending portfolio review events, as a reviewer since 2006. photo-eye is a leading contemporary photography gallery and bookstore representing both established and emerging photographers.

Paul Kopeikin, Kopeikin Gallery, Los Angeles, CA
Paul Kopeikin founded his eponymous gallery, Kopeikin Gallery in 1991, an internationally recognized gallery of photography and contemporary art in Los Angeles. Kopeikin Gallery has presented exhibitions by photography's modern masters such as Diane Arbus, Lee Friedlander, Walker Evans, Edward Weston, Garry Winogrand, Nicholas Nixon, Harold Eugene Edgerton and contemporary photographers such as Jeffrey Milstein, Chris Jordan, Jill Greenberg, Kahn and Selesnick and Kevin Cooley. Following decades of exploring photography's history, the gallery program has expanded beyond photography to include painting and works on paper.
Kopeikin Gallery is committed to developing and building collections and we pride ourselves on our ability to procure virtually any artwork for our clients, whether or not it's in our current inventory. In addition to ongoing gallery exhibitions, the gallery participates in art fairs both nationally and internationally. 

Susan Spiritus, Susan Spiritus Gallery, Irvine, CA
Susan Spiritus has been a leader in the field of fine art photography for 42 years, opening the doors to her Southern California gallery in 1976 so that she could share her passion for photography with others.Today, the gallery handles works by such photographic luminaries as Ansel Adams, Ruth Bernhard, Manuel Álvarez Bravo, Eikoh Hosoe, André Kertész, Paul Caponigro and George Tice. Also represented in the gallery's collection are many of today's most popular and award-winning contemporary artists.
The gallery works with private collectors, corporations and design professionals providing personalized counsel in order to address each client's individual needs. Whether a first time buyer or a prolific collector, the gallery has something for everyone. Art ranges in price, style and type including platinum, silver, hand-colored and digital.
Museum Curators
Makeda Best, Richard L. Menschel Curator of Photography at the Harvard Art Museums, Cambridge, MA
At the Harvard art Museums in Boston, Makeda Best is the Richard L. Menschel Curator of Photography and Interim Head of the Division of Modern and Contemporary Art. Best holds a B.A. from Barnard College, a B.F.A and M.F.A from the California Institute of Arts, as well as a M.A. and Ph.D from Harvard University. She oversees the photography collection at the Harvard Art Museums and has a specialized interest in 19th to 20th century American Photography. Best's scholarly niche in photography is focused on photojournalism, documentary, war photography, and text and image works. Her most recent exhibition, entitled, Crossing Lines, Constructing Home: Displacement and Belonging in Contemporary Art, is centered around the differing perceptions of political and cultural boundaries and borders.

Karen Haas, Lane Senior Curator of Photographs at Museum of Fine Arts, Boston, MA
Karen Haas has been the Lane Curator of Photographs at the Museum of Fine Arts, Boston since 2001, where she is responsible for a large collection of photographs by American modernists, Charles Sheeler, Edward Weston, Ansel Adams, and Imogen Cunningham. The Lane Collection numbers more than 6,000 prints and ranges across the entire history of western photography. Before coming to the MFA, she held various curatorial positions in Boston-area museums and private collections, including the Isabella Stewart Gardner Museum, the Boston University Art Gallery, and the Addison Gallery of American Art in Andover. She has a BA in Art History from Connecticut College; an MA in the History of Photography at Boston University; and has taught the history of photography at both Boston University and Boston College. Her MFA activities include exhibitions, such as Make Believe; Ansel Adams in Our Time; (un)expected families; Charles Sheeler from Doylestown to Detroit; Imogen Cunningham: In Focus; Gordon Parks: Back to Fort Scott; Edward Weston: Leaves of Grass; and Bruce Davidson: East 100th Street. She has just completed a book on the early work of Edward Weston, and her other publications include An Enduring Vision: Photographs from the Lane Collection; Common Wealth: Art by African Americans in the Museum of Fine Arts, Boston; Ansel Adams; and The Photography of Charles Sheeler: American Modernist.

Lauren Szumita, Curator, Fitchburg Art Museum, Fitchburg, MA
Lauren Szumita is the Curator at the Fitchburg Art Museum in Massachusetts. Prior to starting her work at the Fitchburg Art Museum in 2020, Szumita was the curatorial assistant at the Worcester Art Museum, specializing in prints, drawings, and photographs. Szumita earned her M.A in the History of Art and Architecture at the University of Oregon, a B.A from Boston College, and a Certificate in Museum Studies from Tufts University.
Barbara Tannenbaum, Chair of Prints, Drawings, and Photographs and Curator of Photography, Cleveland Art Museum, Cleveland, OH
Barbara Tannenbaum has organized over 100 exhibitions during her three-decade career as a curator. Recent exhibitions include Black in America: Louis Draper and Leonard Freed; Cheating Death: Portrait Photography's First Half Century; BIG; Pyramids & Sphinxes; DIY: Photographers and Books, which was the first museum show of print-on-demand photobooks; American Vesuvius: Frank Gohlke and Emmet Gowin.Shows in progress include Ilse Bing: Queen of the Leica;  Signal Noise: Aaron Rothman; and Bruce Davidson. Dr. Tannenbaum co-organized the first large-scale international exhibition chronicling women's historic achievements in fine art photography and the 1991 Ralph Eugene Meatyard retrospective and has authored numerous publications including books on Ralph Eugene Meatyard (Rizzoli), TR Ericsson, and the Akron Art Museum's collection. She has lectured throughout the U.S. and in Canada, Brazil, and China and serves on the board of the Fred and Laura Ruth Bidwell Foundation.
Dr. Tannenbaum has (hopefully sage) advice and guidance to offer and looks forward to discussing exhibition and book projects still in their development phase. She is interested in seeing many different kinds of work, but prefers not to review photography that is primarily commercial in nature. Nudity is okay as long as it is truly at the service of artistic expression.
Lisa Volpe, Associate Curator Photography, Museum of Fine Arts Houston, Houston, TX
Lisa Volpe is the Associate Curator, Photography at the Museum of Fine Arts, Houston. She earned her MA at Case Western Reserve University and her PhD at the University of California, Santa Barbara. Before arriving in Houston, she was the Curator of the Wichita Art Museum where she oversaw all areas of the museum's collection. Additionally, she held various curatorial roles at the Santa Barbara Museum of Art (SBMA), and fellowships at the Los Angeles County Museum of Art (LACMA) and the Cleveland Museum of Art. Her current project, Georgia O'Keeffe: Photographer, examines the little-known trove of artistic photographs created by O'Keeffe in the latter half of her career.

Independent Curators & Educators
Emily Belz, Photographer and  Educator, Lincoln, MA
Emily Belz is a photographer and educator based in Lincoln, MA. Her work focuses on domestic still lifes, and reveals a strong affinity for light, space, and color. Belz has exhibited her photographs both regionally and nationally at venues including the Center for Fine Art Photography; the Griffin Museum of Photography; and the Danforth Museum. She was the recipient of a 2014 artist grant from the Cambridge Arts Council, a 2015 Critical Mass Finalist, and was awarded the Manoog Family artist residency in 2018. In 2019 Belz had solo exhibits at Gallery Kayafas and the Danforth Museum. She is represented by Gallery Kayafas in Boston.
Belz holds a BA in photography and art history from Hampshire College (1997), an MA in art and design education from the Rhode Island School of Design (2009), and an MFA from the New Hampshire Institute of Art (2017). She teaches classes and workshops at the Griffin Museum of Photography in Winchester, MA and Lasell College in Newton, MA.
Carrie Cushman, Edith Dale Monson Director/Curator of the Joseloff and Silpe Galleries, University of Hartford, Hartford, CT
Carrie Cushman
is a curator/educator specializing in the histories of photography and modern and contemporary art from Japan. She holds a Ph.D. in Art History from Columbia University, and is the former Gruber Curatorial Fellow in Photography at The Davis Museum at Wellesley College. Her writing appears in edited volumes, international exhibition catalogues, and scholarly journals, including the Review of Japanese Culture and Society and Verge: Studies in Global Asias. Her most recent exhibition, 
Komatsu Hiroko: Creative Destruction
 at the Davis Museum at Wellesley College is the first installation of the award-winning photographer Komatsu Hiroko's work to be held in the United States. In spring 2022, Carrie will join the Hartford Art School as the Edith Dale Monson Director/Curator of the Joseloff and Silpe Galleries at the University of Hartford. 
Lonnie Graham, Artist & Educator, Philadelphia, PA
Lonnie Graham, is an artist, photographer and cultural activist who's work addresses the integral role of the artist in society and seeks to seeks to re-establish artists as creative problem solvers. Lonnie Graham is a Pew Fellow and Professor of Art in Photography at Pennsylvania State University. Professor Graham is formerly Acting Associate Director of the Fabric Workshop and Museum in Philadelphia Pennsylvania. Graham also served as Director of Photography at Manchester Craftsmen's Guild in Pittsburgh, Pennsylvania, an urban arts organization dedicated to arts and education for at risk youth. There, Graham developed innovative pilot projects merging Arts and Academics, which were the subject of a Harvard case study then ultimately cited by, then, First Lady Hillary Clinton as a National Model for Arts Education.
In 1996 Graham was commissioned by the Three Rivers Arts Festival to create the  "African/American Garden Project." which provided a physical and cultural exchange of disadvantaged urban single mothers in Pittsburgh, and farmers from Muguga, a small farming village in Kenya, to build a series of urban subsistence gardens.
In 2005, Professor Graham was cited as Artist of the Year in the Commonwealth of Pennsylvania and presented the Governor's Award by Governor Edward Rendell. Lonnie Graham is the recipient of a National Endowment for the Arts/Pew Charitable Trust Travel Grant for travel to Ghana and is a four time Pennsylvania Council for the Arts Fellowship recipient. Graham was also awarded the Creative Achievement Award by the Pittsburgh Cultural Trust.
The catalogue accompanying the exhibition "A Conversation with the World," has been widely distributed by Light Work in Syracuse, New York. Graham continues work on that project which has been supported by the University of Oulu, in Finland, the University of Calgary in Alberta Canada, and the San Francisco Arts Commission. "A Conversation with the World" seeks to reveal our common humanity with photography and interviews conducted by Professor Graham with individuals throughout the world. In 2012 Professor Graham collaborated with Philadelphia artist John Stone to create "Farm Stand" for "Green Acres," an exhibition held at the Center for Contemporary art in Cincinnati. In 2009 Professor Graham received funding from the Mid Atlantic Arts Foundation in conjunction with Pennsylvania State University to conduct a project entitled "A Change in The Making." That project explored social and economic issues in Cape Town, South Africa. During the course of this project Mr. Graham established a relationship with Monkey Biz, an organization lending support to women of Gugulethu and Kaylisha, the townships of Cape Town. This NGO breaks societal boundaries and helps women establish economic independence.
Graham recently delivered a TEDx talk on economic disparities of the artists in modern culture. Other exhibitions include an installation of photographs at Goethe Institute, Accra Ghana; a full scale reproduction of one of the educational galleries in the original Barnes Foundation shown at La Maison de Etat-Unis, Paris, France, an exhibition of larger than life portraits at the Toyota City Museum in Aichi, Japan and the Tony Rakka gallery in Ubud, Bali, as well as a room sized installation featured at the Smithsonian Institution in Washington, DC. Graham's work can be found in the permanent collections of the Datz Museum in Seoul, Korea, the Addison Gallery for American Art in Andover, MA and the Philadelphia Museum of Art, in Philadelphia, PA.
Tailyr Irvine, Indigenous Photograph, Documentary Photographer, Montana
Tailyr Irvine is a Salish and Kootenai photojournalist and spends time representing the complex issues surrounding diversity in Native American communities. She received her B.A in journalism from the University of Montana in 2018, and has worked in newsrooms across the United States before focusing her career on photojournalism and documentary photography endeavors. In 2019 she began a National Geographic that explores the complexities of blood quantum and Native identity.
Kirsten Rian, Independent Curator, Photographer & Educator,  Oregon
Kirsten Rian is an independent photography curator, visual artist, university professor, and writer. She has curated or coordinated more than 375 photography exhibitions internationally, and picture edited or written for over 80 books and catalogues. She is active in the international photography as well as book arts communities. She is a sought after essayist for photography monographs and works with major international photography publishers and artists.
She is an accomplished multidisciplinary artist, working prolifically as a writer, painter, and installation artist, reflecting a commitment to community–both in her immediate orbit, as well as in the greater international context. Her most recent international exhibition was in Iceland and incorporated video, painting, words, and music. Her work with refugees and immigrants in war-torn communities and human trafficking survivors explores how storytelling and sharing through creative mediums often allows the hardest and most necessary aspects of human history and experience to be remembered, and in fact, honored. As a musician she has made 8 records, and acted as producer on others.
She is widely published as an essayist and poet, and the author of three notable books. Her anthology of Sierra Leonean poets and their accounts of the civil war, Kalashnikov in the Sun (Pika Press), is in every classroom in Sierra Leone. Life Expectancy was released in 2018 by Redbat Books as part of their Pacific Northwest Writers Series. She was the author of the weekly column "The Alphabet of Light" for Daylight Magazine, was the poetry editor at The Oregonian newspaper, and is the recipient of numerous artist fellowships and grants.
Joanne Junga Yang Artistic Director, Korea International Photo Festival, Seoul, Korea
Joanne Junga Yang is a curator, juror, lecturer, portfolio reviewer and writer in the field of photography at a wide range internationally.
Joanne is the artistic director of Korea International Photo Festival(KIPF) which is held at Hangaram Design Museum of Seoul Arts Center in Seoul, South Korea since 2018.
Joanne is also the director and curator of Y&G Art global contemporary project collaborating with galleries, magazines and private museums for curating and collecting.
She has organized and curated a variety of exhibitions on contemporary art and photography. Among others for Dong Gang International Photography Festival and Seoul Photo Festival. She received The Art and Culture Award for Curating of the Seoul Photo Festival (2011) from the Seoul Metropolitan Government, and she was appointed as Director of the International Committee by the Seoul Metropolitan City Government.
Joanne has contributed many articles and interviewed international artists to diverse magazines such as Monthly Photography, PhotoDot, Monthly PhotoArt, Art Now and more.
Non Profit Arts Organizations
David DeMelim, Founder and Managing Director, RI Center for Photographic Arts, Providence, RI
David DeMelim is the founder and managing director of the Rhode Island Center for Photographic Arts in Providence, RI. David also pursues parallel explorations in printmaking and photography. He earned a BFA from the University of Rhode Island, studying with Bart Parker and Chris Cordes, and has been involved in advancing computer driven printing technology. With a focus on the built landscape and its human connections, DeMelim considers form, weight and proximity in his compositions. He is not interested in capturing a "Kodak moment, but rather a syncopated succession of moments that combine to recall or define an event." Much of his work explores an image's ability to fix a memory through the use of multiple layers and paired images.

Donna Garcia, Executive Director, Atlanta Photography Group, Atlanta Georgia
Donna Garcia is the Executive Director of the Atlanta Photography Group in Atlanta Georgia. She holds an M.F.A in photography from the Savannah College of Art and Design and for the past 15 years has worked extensively in communications, partnership management, fundraising, arts programming and marketing at APG, prior to becoming the Executive Director. Garcia holds an MS in Communications from Kennesaw State University, a BA from Stonehill College in Boston and recently completed her Certification in Diversity from Tufts University. Outside of the Atlanta Photography Group, Garcia is a professional photographer that has a special focus on self portraiture and abstraction, dealing with the concepts of motion, gender, race and otherness. She has been exhibited in numerous galleries such as the The National Center for Civil and Human Rights: Civil Rights Museum in Atlanta, The Center of Photographic Arts in California, and many more.

Bill Gaskins, Director of Photography + Media & Society MFA, MICA, Baltimore, MD
Bill Gaskins is a Professor and Director of the Graduate Program in Photographic & Electronic Media at MICA. His depth of experience represents a rich tapestry of practice, teaching, and research in photography and media.
Bill Gaskins is an informed and inspired professor, acknowledged by his students and peers for his teaching as a winner of the Watts Prize for Faculty Excellence, Cornell University Department of Art in 2016, and the University Distinguished Teaching Award at the New School University in 2011.Bill explores questions about visual and media culture in the twenty-first century through photography and media from an interdisciplinary professional and academic foundation that includes his body of arts and culture writing framed through photography, the history of photography, visual and material culture, and American and African American Studies scholarship. A critical entry point for Gaskins' work is his fascination with the myths of photography, and American life through depictions of race in visual culture.
He is the author of the groundbreaking monograph, Good & Bad Hair: Photographs by Bill Gaskins, and has published essays and reviews in numerous journals including,The Society of Contemporary Craft, Artsy, Exposure :The Journal of The Society of Photographic Education, and The New Art Examiner, among others. His relevance as a contemporary artist has garnered attention through books, catalogs, solo and group exhibitions at major venues including the Crocker Museum of Art, Brooklyn Museum of Art, Detroit Institute of Arts, and The Smithsonian Institution.
Hamidah Glasgow, Executive Director, Center for Fine Art photography Fort Collins, CO
Hamidah Glasgow has been the Executive Director and Curator at The Center for Fine Art Photography in Fort Collins, Colorado since 2009. Hamidah holds a master's degree in humanities with a specialization in visual and gender studies and a bachelor's degree in philosophy. Hamidah's contribution to photography has included curatorial projects, national portfolio reviews (FotoFest, Photolucida, Medium, Center, Filter, etc.), contributions to publications and online magazines.  She received the 2018 Hal Gould  Vision in Photography Award and is a co-founder of the Strange Fire Collective. This collective is dedicated to photo-based work that engages with current social and political forces, highlighting the work of women, people of color, and queer and trans artists, writers, and curators.
Hamidah – (Pronounced Ha-me-dah) is interested in a wide variety of work both finished projects, work-in-progress, and creative brain storming. Hamidah can assist with editing, sequencing, and project development. She is looking for photo-based artists for exhibition opportunities and web based features.  She is not interested in traditional nudes, traditional landscapes, or commercial work.

Karen Harvey, Shutterhub, London, UK
Karen Harvey is the Creative Director of Shutter Hub, the UK based photography organization providing opportunities, support and networking for creative photographers worldwide. She founded the organization to create a supportive community for photographers and to provide a platform for the development of ideas and careers.
She has won awards for photography, writing and community development; spoken at industry events and locations such as FOAM Museum, London Art Fair, FORMAT Festival, and the Festival of Creative Industries; curated exhibitions at London Photomonth, Cambridge University, and St Bride Foundation, to name just a few in the UK, and taken shows to Israel, France and The Netherlands; and she's reviewed portfolios at Unseen Amsterdam, FORMAT International Photography Festival, Belfast Photo Festival, London Photomonth, The Photographers' Gallery, Getty Images Gallery, and more.
Karen is dedicated to creating fair access to photography and opening up opportunities for everyone. She'd love to see work by photographers who are looking for support and direction, who want to exhibit their work, develop their networks, and connect with others.

Ann Jastrab, Executive Director, Center for Photographic Art, Carmel, CA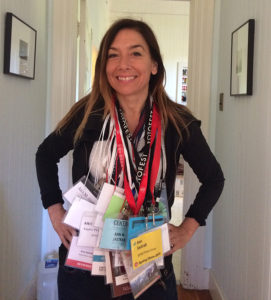 Ann M. Jastrab is the Executive Director at the Center for Photographic Art (CPA) in Carmel, California. CPA strives to advance photography through education, exhibition and publication. These regional traditions—including mastery of craft, the concept of mentorship, and dedication to the photographic arts—evolved out of CPA's predecessor, the renowned Friends of Photography established in 1967 by iconic artists Ansel Adams, Wynn Bullock and Cole Weston. While respecting these West Coast traditions, CPA is also at the vanguard of the future of photographic imagery. Before coming onboard at CPA, Ann was the gallery manager at Scott Nichols Gallery in San Francisco where she incorporated contemporary artists with the living legends photography.
Ann also worked as the gallery director at RayKo Photo Center in San Francisco for 10 years until their closure in 2017. Ann has curated many shows in the Bay Area while simultaneously jurying, curating, and organizing numerous exhibitions for other national and international venues outside of San Francisco. She has reviewed portfolios for a multitude of organizations including the Seoul International Photography Festival in Korea, Fotofest, Photolucida, GuatePhoto, PhotoNola, Review Santa Fe, Medium, Palm Springs Photo Festival, Filter, PhotoAlliance, and Lishui International Photography Festival in China as well as being a juror for Critical Mass. While being a champion of artists, she created a thriving artist-in-residence program at RayKo where recent residents Meghann Riepenhoff, Carlos Javier Ortiz, Kathya Marie Landeros, and McNair Evans all received Guggenheim Fellowships.
Besides being a curator, Ann Jastrab, MFA, is a fine art photographer, master darkroom printer, and teacher as well.
Arts Advisors & Consultants
Alyssa Coppelman, Photo Editor & Consultant, Austin, TX
Alyssa Coppelman is an independent photo editor, picture researcher, and educator who currently works as an Art Researcher for the Oxford American magazine, and as the Deputy Art Director for Harper's Magazine. She also focuses on archival photography research for the PBS NewsHour interview series. Other than there extensive research, Coppelman also has juried photography contests and exhibitions for Center for Fine Art Photography, Critical Mass, Flash Forward, and others; and has been a portfolio reviewer at Photolucida, Filter Photo Festival, Fotofest Houston, and PhotoNOLA. She is a visiting lecturer for undergraduate and graduate students pursuing careers in photo editing and publishing, as well as leader in workshops on developing portfolios, photo editing, sequencing and editorial design.
Mary Virginia Swanson, Educator, Author and Entrepreneur in the field of photography, and a respected advisor to artists and arts organizations.
Mary Virginia Swanson is an educator, author and entrepreneur in the field of photography, and a respected advisor to emerging and established artists and arts organizations. Her broad professional background affords her a range of perspectives on making and marketing art. As the market for photographs is rapidly evolving, she is committed to broadly share her knowledge with as many artists as possible, bringing her advice via Zoom to over 20 schools and arts organizations last year alone.
After decades of teaching workshops internationally Swanson has embraced online learning opportunities and just began her first long-form course for photographers, Finding Your Audience: An Introduction to Marketing Your Photographs (January 2022, La Luz Workshops; it's
not too late to join the class).
Swanson co-authored with Darius Himes the acclaimed Publish Your Photography Book: Revised & Updated (2011, 2014) and continues to stay current on the growing market for photobooks. They are currently preparing the much anticipated 3 rd Edition of this widely respected title (Radius Books, Spring 2023).
Swanson proudly received the Focus Award for Lifetime Achievement in Photography from the
Griffin Museum in Boston in 2013, the Susan Carr Award for Education from the American
Society of Media Photographers in 2014, and was named 2015 Honored Educator by the
Society for Photographic Education. Swanson is based in beautiful Tucson, Arizona, her website
is www.mvswanson.com and her Instagram accounts are @maryvirginiaswanson and @findingyouraudience
J.Sybylla Smith, Independent Consultant
J. Sybylla Smith works with photographers and visual creatives to expand the breadth and reach of their work for submission, exhibition and publication. As an independent curator she exhibits in traditional and non-traditional art spaces, nationally and internationally. She developed and teaches, Concept Aware®, a concept development framework and creative practice toolbox, in 5-day and weekend workshops. Concept Aware®, is pending publication. Smith maintains a studio and photobook library in Union Square Somerville, providing public lectures and photobook discussions that celebrate creativity, photography and the import of visual culture.

Melanie McWhorter, Independent Photography Consultant
Melanie McWhorter is an independent photography consultant and bookseller based in Sante Fe. After 2016, McWhorter founded an online bookstore and consulting practice where she would help guide artists on their photobook projects. She holds a B.A in History from Lander University, and a M.A in Environmental Science from Green Mountain College. She has judged for numerous photography competitions such as Review Santa Fe 100, Women Photojournalists of Washington's Annual Exhibition, Daylight Annual Awards, and Fotografia: Fotofestival di Roma's Book Prize. Her professional skills in photography have been highlighted in several online and print publications including Lenscratch, PDN, and NPR's The Picture Show.
Publications
Ernesto Bazan, BazanPhotos Publishing, VeraCruz, Mexico
Ernesto Bazan was born in Palermo, on the island of Sicily in Italy in 1959, studied photography at the School of Visual Arts, New York, NY from where he graduated in 1982. Bazan has published several books of his own work including The Perpetual Past, Passing Through, The First Twenty Years, Island, Molo Nord, and in 2008 he founded the publishing house, BazanPhotos Publishing. Bazan has had exhibitions in Europe, Latin America and the United States and his photographs are in the collections of museums including MOMA and ICP in New York, SFMOMA in San Francisco, the Museum of Fine Arts in Houston, the Center for Documentary Studies at Duke University, Durham, the South East Museum of Photography in Daytona, the Fondazione Italiana della Fotografia in Turin, the Biblioteque Nationale in Paris and the Musée Réattu in Arles.
From 1992 to 2006, he lived and photographed the island of Cuba documenting the unique time in Cuban history called The Special Period. This body of work has given him the privilege to win some of the world most prestigious photographic awards among them The W. Eugene Smith grant; the Mother Jones Foundation for Photojournalism, the Dorothea Lang Paul Taylor prize at Duke University, N.C., the World Press Photo and two fellowships from the Alicia Patterson Foundation and the Guggenheim Foundation.

David Carol & Ashly Stohl, Peanut Press, LA & NY
David Carol
David J. Carol is a photographer, writer, curator, editor, teacher, lecturer and publisher. He attended the School of Visual Arts and The New School for Social Research where he studied under Lisette Model. He was the first assignment photographer for The Image Bank photo agency (now part of Getty Images) at the age of 26. He recently retired after 25+ years as the Director of Photography at Outfront Media (formerly CBS Outdoor) to Co-Found the book publishing company, Peanut Press Books. He loves giving photographers a platform to share and discuss their work with the photographic community. He is able to do this as a contributing writer to Rangefinder Magazine and PDN as well as doing portfolio reviews at such varied venues as The Palm Springs Photo Festival, PhotoPlus Expo in NYC, ASMP Fine Art, APA, Filter Photo Festival in Chicago, Slow Exposures Festival in Georgia and The
Center for Fine Art Photography in Colorado.
David is the author of four monographs, 40 Miles of Bad Road…, ALL MY LIES ARE TRUE…, "THIS IS WHY WE CAN'T HAVE NICE THINGS!" and his latest book, NO PLAN B. He also completed a trilogy of books, "Where's the Monkey?", "Here's the Deal!" and "All My Pictures Look the Same." with Cafe Royal Books, London.
David's other work experiences include editing and sequencing photo books, curating photo shows, and being a judge for contests at multiple magazines and universities, including the prestigious PDN Photo Annual. He has also given lectures/workshops on his own work and photography in general at SCAD, SVA, ASMP, photo-eye gallery, The Center for Alternative Photography: Penumbra Foundation, PhotoPlus Expo, Filter Photo Festival, SlowExposure Festival and The Center for Fine Art Photography to mention a few.
David's photographs and/or books are in the permanent collections of over 50 libraries and museums including:
Museum of Modern Art, New York, NY
The Museum of the City of New York, New York, NY
National Gallery of Art, Washington DC
The International Center of Photography, New York, NY
Tate Gallery Special Collection, London, UK
Museum of Fine Arts, Houston, TX
Art Institute, Minneapolis, MN
Columbus Museum of Art, Columbus, OH
Block Museum, Chicago, IL
Fogg Art Museum, Boston MA
Harry Ransom Humanities Research Center, Austin, TX
Cambridge University Library, Cambridge, UK
The J. Paul Getty Museum, Los Angeles, CA
Reader's Digest Collection, Pleasantville, NY
British Library, London, UK
The Cleveland Museum of Art, Cleveland, OH
Amon Carter Museum, Fort Worth, TX
Bodleian Libraries of the University of Oxford, Oxford, UK
The National Library of Scotland, Edinburgh, UK
Ashly Stohl
Ashly Stohl is a photographer based in Los Angeles and New York, and co-founder and Publisher of Peanut Press, an independent
photobook publisher. She earned a BS in Chemistry from UCSB, then returned to Los Angeles to put her science education to use, creating award-winning educational websites for NASA's Mars Program Office.
Her first monograph, Charth Vader was published in 2015, was met with worldwide press and quickly went viral, with the trade edition selling out in two weeks.  From this experience, Ashly co-founded Peanut Press, publishing fine photography books.
On the heels of her successful solo show, Days & Years, at Leica New York Soho, Ashly has released her second book of the same name.  In addition, she has launched The Days & Years Project, a platform to promote the work of fine art photographers who photograph their children.
Mark Alice Durant, Saint Lucy Books, Baltimore, MD

In 2017, artist and writer,
Mark Alice

Durant
established Saint Lucy Books to publish elegant, idiosyncratic, and accessible books that combine words and images to celebrate contemporary photographic artists, and to explore the marginal, hidden, and parallel histories of photography. Six critically acclaimed titles have been released thus far.
Durant
will discuss specific books, why and how he began the imprint, and the challenges and satisfactions of being a small independent publisher.
Mark Alice
Durant
is an artist, writer, editor, and publisher of Saint Lucy Books. His essays have appeared in numerous journals, catalogs, monographs and anthologies, including
Rania Matar: She; Vik Muniz: Seeing is Believing; Jimmie Durham; Marco Breuer: Early Recordings
;
Robert Heineken: A Material History
; and
The Passionate Camera: Photography and Bodies of Desire
. His most recent book is
27 Contexts: An Anecdotal History in Photography
.
Michael Kirchoff, Analog Forever Magazine, Los Angeles, CA
Michael Kirchoff is a photographic artist, Editor in Chief at Analog Forever Magazine, Founding Editor at Catalyst: Interviews, and Contributing Editor for the column, Traverse, at One Twelve Publishing. Based in Los Angeles, Michael conducts artist interviews, presents features, and curates fine art photography bodies of work from emerging and mid-career photographic artists worldwide for all entities. Previously, Michael also served for over four years as Editor at BLUR Magazine from 2014-2018.
In addition, Michael is an independent curator and juror for a number of organizations, as well as a frequent portfolio reviewer. His consulting, training, and overall support of his fellow photographic artist continues with assistance in constructing ones vision to finding exhibition and publishing opportunities. Michael seeks portfolios that demonstrate a cohesive and thoughtfully edited body of work with an emphasis on the creative, either stylistically or thematically. Film-based and analog process work are of particular interest for fine art and documentary photography.
Caleb Cain Marcus,  Roving Exhibitions Editor, Damiani Publishing, NY, NY
Caleb Cain Marcus is a Roving Acquisitions Editor for Damiani and runs one of the world's smallest book design and print studios, Luminosity Lab. Caleb has had six books of his photographs published and is in many museum collections, including the Metropolitan Museum of Art, the Getty Museum, the High Museum of Art, Norton Museum of Art, and Museum of Fine Arts Houston.

Bree Lamb, Fraction Magazine, Managing Editor, Albuquerque, NM
Bree Lamb is an artist, educator and editor based in New Mexico. She is Assistant Professor of Photography at New Mexico State University, and holds an MFA from the University of New Mexico. For the last five years, Lamb has been the Managing Editor for Fraction Magazine, an online venue dedicated to fine art, contemporary photography, that brings together diverse bodies of work by established and emerging artists from around the globe. Lamb has served as a portfolio reviewer or juror for Review Santa Fe, Medium Festival of Photography, Mt. Rokko Photography Festival, Denver's Month of Photography, Photolucida's Critical Mass and the Society for Photographic Education's National Conference.

Aline Smithson, Founder, Lenscratch, Los Angeles, CA
Aline Smithson is a Los Angeles based visual artist, editor, and educator. Aline is the Founder and Editor- in-Chief of Lenscratch, a daily journal on photography that has offered exposure to thousands of photographers since 2007. She has been teaching at the Los Angeles Center of Photography, and around the globe, since 2001. In 2012, Aline received the Rising Star Award through the Griffin Museum of Photography for her contributions to the photographic community. In 2014, Aline's work was selected for the Critical Mass Top 50 and she received the Excellence in Teaching Award from CENTER. In 2015, the Magenta Foundation published her first significant monograph, Self & Others: Portrait as Autobiography. In 2016, the Smithsonian Air and Space Museum commissioned Aline to a series of portraits for the upcoming Faces of Our Planet Exhibition. In 2018 and 2019, her work was on exhibition at the National Portrait Gallery in London as a finalist in the Taylor Wessing Portrait Prize. Kris Graves Projects published LOST II: Los Angeles in 2019. She is a dedicated film shooter.

Elin Spring, What Will You Remember
Elin Spring is the founder, editor, and head writer of the photography blog, "What Will You Remember", which includes various art exhibition reviews and artist and curator interviews.  Elin earned her bachelor's degree from Brown University and Ph.D. in Neuroscience from University of Pennsylvania. She contributes to many print and online magazines as well as museum catalogs. Her background in exhibition review has led her to become a juror at photography competitions and a reviewer for portfolios. In 2014, her photography writing was recognized with the Scribe FOCUS Award from the Griffin Museum of Photography. Before the creation of her blog, for over two decades she specialized in professional portraiture in and around Boston.

Dana Stirling & Yoav Friedlander, Float Magazine
Dana Stirling is a still life and fine art photographer, and the Co-Founder & Editor In-Chief of Float Photo Magazine in addition, Dana is an editor at Aint-Bad magazine and she is a contributing writer for Lenscratch. Dana was born in Jerusalem, Israel, and is now based in Queens, NY ; she received her MFA from The School Of Visual Arts in Photography, Video, and Related Media in 2016 and her BA from Hadassah College Jerusalem in Photographic Communications in 2013. Stirling's work has been exhibited internationally including Fresh Paint Art Fair in Tel Aviv, UNICEF Next Generation Photo Benefit at Aperture Foundation NY, "A Process – Der Greif" in Neue Galerie, Höhmannhaus Germany, Google photography Prize at Saatchi Gallery London UK, Brick Lane Gallery, London UK and Tel Hai Museum of Photography Israel. Some press includes the Lensculture website, FeatureShoot website, Haaretz Photography Blog, Musee' Magazine, Blow Photo website and others. In addition to publication such as Aint Bad bad 'from here on' book, All the best Alice 2015, A process exhibition book and Israel Hayom Newspaper. Dana Stirling is a 2019 NYSCA/NYFA Artist Fellow Finalist in Photography from The New York Foundation for the Arts. She has been awarded the Google Photography Prize Finalist (2012), Gross Foundation grant for excellency in photography (2013) and the Weizmann institute scholarship for outstanding student achievement (2011).
Yoav Freidlander
Yoav Friedlander is the co-founder of Float Photo Magazine [2014] and the Rust Belt Biennial [2018].
I was born in Jerusalem [1985] and spent most of my life in my hometown town of Maale-Adummim. Between Jerusalem and the Dead Sea, on a limestone hill at the edge of the Judean mountains my perception of the world got its shape. After 18 years of preparations I've joined the army for a mandatory service of 3 years. I started my service as a paratrooper and followed my father's footsteps and also my Grandfather's, Kurt (Arie), who fled Austria to Israel after the Kristallnacht, was a British Brigades soldier during WWII and later served in the Israeli Army. In the fall of 2007, only 4 months after finishing my army service, I began my B.A studies in Photography, at Hadassah Academic College Jerusalem. After graduating in 2011 I moved to New York, where I worked as a security officer for the Israeli aviation for nearly 4 years. In the fall of 2012, and during my work at JFK Airport, I started an MFA in photography at the School of Visual Arts, which I graduated from in 2014. Ever since I can remember it was photographs who introduced me to and informed me of my personal and collective past or present realities that are inaccessible or out of reach. Photographs had visually mapped reality. A broken promise we made to ourselves looking up to the medium as a neutral reflection of what visibly exists. We treat photographs as hard evidence, and to the extent that we find ourselves considering what is real to be different from how it should be according to its own image. Since the inception of photography, reality gradually became augmented by its own reflection. I am focusing my work at this point of friction. -YF