The Griffin Museum is excited to bring Ruben Natal-San Miguel to Lafayette City Center to celebrate his magnum opus, Women R Beautiful. 
How might you define this work to a young child or to someone unfamiliar with your work? What are its core components?
The Women R Beautiful series was created from the starting point of me being  only 4 years old and seen how my grandfather treated my mother . She was nt allowed to look directly at him while speaking to him. That disturbing memory will never leave my mind. The series are pretty self explanatory. It' s a celebration of women from all walks of life and children are portrayed interacting with their mothers so, it is pretty self explanatory . 
When thinking about your work, what drew you to the Griffin Museum? 
The idea of this body of work was to travel to different locations and expand it content while at it. I had photographed women from the Massachusetts areas ( East Boston, Revere, Fitchburg, Provincetown , South Boston , Roxbury and Boston ) so wanted to show New England the variety of diversity of women from all walks of life from other areas outside MA. As you know, New England still it is not as diverse as other parts of America.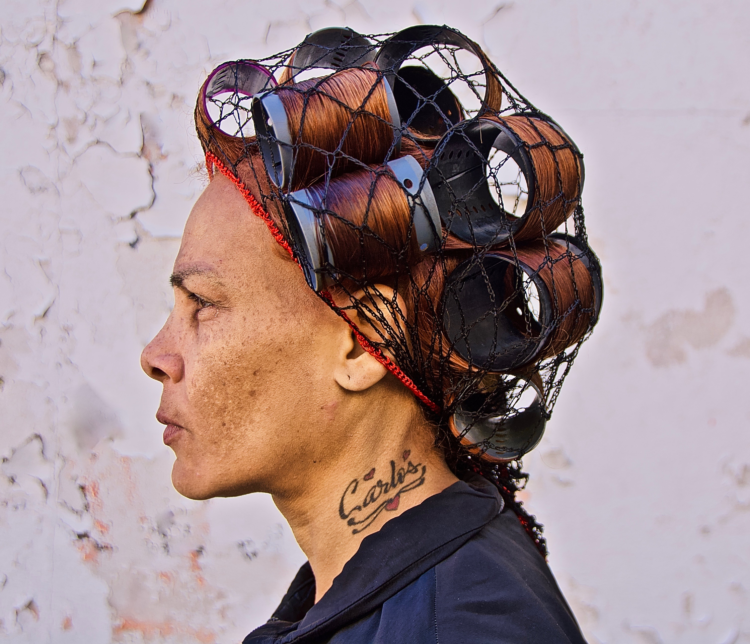 How has your relationship with your Mother impacted on your personal style and choices in this work?
I had a rare relationship with my mother. I loved her but, was never her favorite. I was just different and most times she did not knew what to do with me and handle me. I obviously loved her but, she never accepted me for who I am today so, was at times contentious. I did listed to her more then any of my siblings and this body of work was created to celebrate her life and her struggles. My mother was part of what I called '' The Gary Winogrand Generation ' on high most women were told what to do, were objectified , could not even vote and their place to be was at home in the kitchen and tending to their families. I thought the Gary Winogransd series which were celebrated 52 years ago were limiting when it came to women representation, women were objectified  ( the mentality at the time ) and wanted to give women a newer , fresher andplified voice and presence.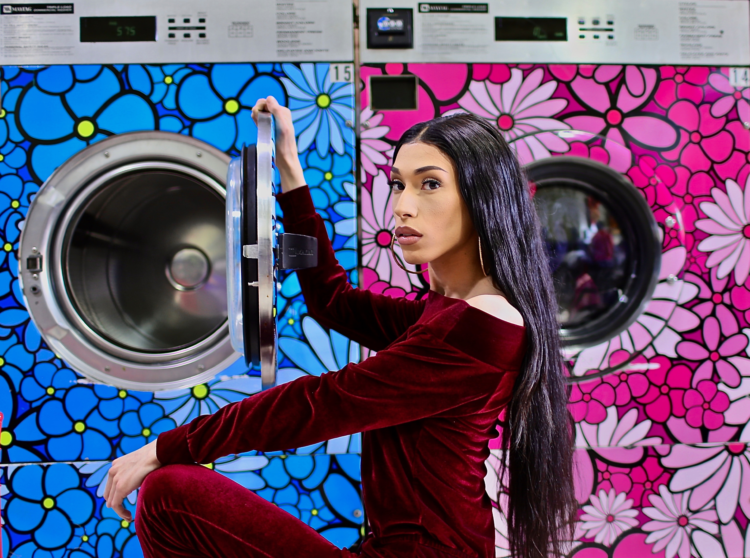 Color is a major part of this work and I'm curious as to how, in your eyes, it reflects or amplifies the meaning of this work? 
There is color in most marginalized areas of most cities. Bodegas, murals and most areas have a great intensity of color all over in most building surfaces. I do not stage my work! I find my subjects by walking where no one usually goes to , find the subjects and make an environment portrait of it. It is all about the subject being comfortable and not confronted . The result are very intense and direct portraits where get to capture their true essence. 
Lastly, What initially drew you to photographing people candidly on the street and out in public?
I am a September 11, 2001 survivor. I was at the North Tower that fateful day working as a financial controller in Wall Street. . After many months of complete human detachment, moved to Harlem and decided to start photographing based on the very rich street culture that witnessed every day on my way home . It helped me a lot to make and establish connections with total strangers . We could tell each other things that we cannot tell even our closest friends. We developed a quick bond based on humanity. I am a self taught photographer . There is no school in the world that can teach you what I do. It comes from something deeper than soul.
ABOUT RUBEN NATAL-SAN MIGUEL
RUBEN NATAL-SAN MIGUEL is an architect, fine art photographer, curator, creative director and critic. His stature in the photo world has earned him awards, features in major media, countless exhibitions and collaborations with photo icons such as Magnum Photographer Susan Meiselas. Gallery shows include: Asya Geisberg, SoHo Photo, Rush Arts, Finch & Ada, Kris Graves Projects, Fuchs Projects, WhiteBox Gallery, Station Independent Projects Gallery, LMAK Gallery, Postmasters Gallery Rome & NYC and others. His work has been featured in numerous institutions: The New York Public Library, Schomburg Center for Research in Black Culture, Griffin Museum of Photography, Museum of Fine Arts Boston, African American Museum of Philadelphia, The Makeshift Museum in Los Angeles, University of Washington, El Museo del Barrio and Phillips Auction House and Aperture Foundation.
International art fair representation includes: Outsider Art Fair, SCOPE, PULSE, Art Chicago, Zona Maco, Mexico, Lima Photo, Peru and Photo LA. and Filter Photo Festival in Chicago Ill. His photography has been published in a long list of publications, highlights: New York Magazine, The New York Times, The Huffington Post, Time OUT, Aperture, Daily News, OUT, American Photo, ARTFORUM, VICE, Musee, ARTnet and The New Yorker, PBS and NPR. In 2016, Ruben's Marcy's Playground was selected for both the Billboard Collective and website for Apple. His photographs are in the permanent collections of El Museo Del Barrio in NYC, The Center for Photography at Woodstock, NY, The Contemporary Collection of the Mint Museum Charlotte, North Carolina, The Bronx Museum for the Arts, School of Visual Arts, NYC, The Fitchburg Museum of Art, Massachusetts, The North Carolina Museum of Art at Raleigh, NC., The Minneapolis Institute of Art, The Leslie Lohman Museum of Art, The Studio Museum of Harlem and The Museum of The City of NY, The Provincetown Art Museum, The Frances Lehman Loeb Art Museum Center at Vassar College and The Museum of Fine Arts , Boston, MA.