25th Annual Juried Members' Exhibition
Various members
July 18 – September 1, 2019
Reception July 18, 2019 7-8:30 PM
Juror talk 6:15 PM on July 18, 2019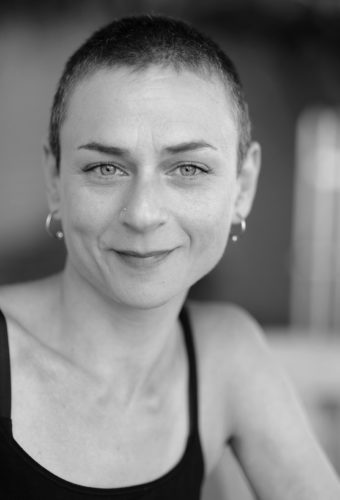 25th Annual Juried Members' Exhibition
Exhibition dates: July 18 – September 1, 2019
Reception: July 18, 2019 7-8:30 PM
Juror: Julie Grahame
Julie Grahame gallery walk/talk 6:15 PM, July 18, 2019 and will do a curator in residence reviews as well. Reviews are July 19th.
67 Shore Road, Winchester MA 01890
Photo of Julie Grahame by Michael Putland
Juror Julie Grahame's Statement for the 25th Annual Juried Exhibition: Griffin Museum of Photography
"I like a good challenge and the entrants to the 25th Annual Juried Exhibition certainly gave me one. The volume of good work made it tough, even though I had the right to choose up to 60 images… I chose the full 60 and I could have squeezed in a couple more. This is quite rare, and I hope the artists who were not chosen understand that due to the quality and quantity of entries some good images couldn't make the cut.
When jurying I want to assess each image on its own caliber, I want to choose things that are not necessarily my personal taste but whose merits are obvious – rating for technicality; composition; originality; a refreshing look at something oft-seen; an entire story in one frame.
In first place, I chose Sunjoo Lee's "Black Memorabilia" as I found the series so sumptuous, and am looking forward to seeing it in rich print. In second place is Scott Nobles' fantastic series that made me giggle out loud, so well executed and adorable. Brian Kossof's "Posts" from his nighttime long exposures has its wonderfully simple elements that make up a poetic image. All together I am pleased with a grand spread of styles and subjects across the 60 finalists.
There were quite a few fantastical images, perhaps a comment on the current state of affairs and a need for escape. Also trending are a look back at family photos, bringing contemporary elements to family histories. It's always pleasing to see classic work, like a strong but quiet black and white landscape, alongside a fresh digital construction. Thank you to all the artists who shared their vision with me. Keep it fresh!" -JG
* Editor's note: One photographer withdrew from the exhibit for personal reasons and one photographer didn't send a photograph for the exhibit. One photograph was eliminated due to it being a second image for one photographer. The Director of the museum chose a director's prize making the number of images in the exhibit 58.
Exhibitors
Raymond Avitable
Jim Baab
Sandra Bacchi
Craig Becker
Gary Beeber
Sarah Belclaire
Barbara Boissevain
Jen Bilodeau
Jay Boersma
Marilyn Canning
Ellen Cantor
Bill Clark – Honorable Mention
Cheryl Clegg
James Collins
Robert Dash – Honorable Mention
Norm Diamond
Kristen Emack
Heather Evans Smith
Maureen Fahey
Nicholas Fedak II
Jennifer Georgescu
Danielle Goldstein
Anna Grevenitis – Honorable Mention
Silke Hase
Daniel Jackson
Andrew Janjigian
Leslie Jean-Bart
Paul Jett
Jamie Johnson
Marky Kauffmann
Brian Kosoff – Griffin Award
Sunjoo Lee – Richards' Family Trust Award
Toby MacLennan
Brian Malloy – Honorable Mention
Lawrence Manning
Ralph Mercer
Robert Moran
Bruce Morton
Rebecca Moseman – Honorable Mention
Rita Nannini
Maeda Naohiro
Scott Nobles – Arthur Griffin Legacy Award
Roger Palframan
Marcus Parsons
Zoe Perry Wood
Lori Pond
Astrid Reischwitz – Honorable Mention
Tabitha Robinson
Stanley Rowin
Russ Rowland – Honorable Mention
Gordon Saperia
Janet Smith
David Spink
Alison Stewart
Kathleen Taylor
JP Terlizzi – Honorable Mention
Rich Turk
Yelena Zhavoronkova
Director's Prize – Patricia Bender
4 exhibitions for June 2020 and July 2020 – Ryan Zoglin and Lauren Ceike/ Melanie Walker and Molly McCall
Purchase Prize – Andrew Janjigian
What Will You Remember's Review
What Will You Remember's Interview With Julie Grahame
—————————————————————————
See Portal entry in Submission Requirements below. Portal opens morning of February 24, 2019.
AWARDS: $2,500 Richards Family Trust Award, $1,000 Arthur Griffin Legacy Award, $500 Griffin Award, and Honorable Mentions. We will award 4 exhibitions that will take place next June and July 2020. We will award 1 Director's prize that will result in a catalog and exhibition. We will produce a catalog of the 25th Juried exhibition. We will produce an online exhibition from photographs not chosen by the juror and it will run on Instagram as well. We will award a Member in Focus.
ELIGIBILITY: This Call for Entries is open to all member photographers. Entrants must be members of the Griffin Museum of Photography (with an expiration after 4/1/2019). We do not advocate for members to join the museum just for this juried opportunity only. We always welcome new members as part of our family and offer a broad range of member opportunities. While some opportunities are for long distance members like our on-line classes, we are working on increasing our offerings this year for distance members. There is a membership level for Distance Members. The Griffin Museum invites member photographers working in all mediums, styles and schools of thought to participate. Experimental and mixed techniques are welcome. There is no theme. The juror will choose between 50 – 60 photographs. We ask the juror to TRY not to choose more than one photograph per photographer. The juror will choose the recipients of the monetary awards. We encourage submitting images from a singular, unified body of work for a cohesive selection for the Juried Exhibition. Artwork selected for gallery exhibition will be limited to FRAMED SIZE of 30×40 inches and under.
JUROR: Julie Grahame is the publisher of aCurator.com, a full-screen photography magazine, and the associated aCurator blog, one of the ten best photo sites named by the British Journal of Photography and one of Life.com's top 20. She has represented the estate of Yousuf Karsh for licensing for 14 years. Grahame is an independent consultant, reviewer, writer and speaker.
She is on the board of the American Photography Archive Group (APAG); judges photography for various non-profits, and is a contributing writer for PDN's Emerging Photographer and EDU magazines. In 2013 she helped launch a new website dedicated to architectural photography, as well as working a spell as associate director for ClampArt, a gallery in New York. In a former life, she ran the Retna photo agency.
PROGRAMMING: Alongside the juried exhibition, the Griffin Museum will organize a series of professional development workshops presented by a diverse range of thought leaders. These workshops will share instrumental ideas, methods and tools to help build the business and legal foundation of a thriving artistic practice.
HANDLING FEE: The handling fee is $25 for 5 images. We have kept our handling fee very low for many years. *The fee is waived for institutions who have Academic Memberships to the Griffin for their photo students and faculty.
SUBMISSION TIMELINE: February 24 – April 24, 2019 at midnight (We want to get the images to the juror in the last week of April.)
SUBMISSION REQUIREMENTS:
Must be a member of the Griffin Museum of Photography through April 2019. Availability to renew membership here.
All images must be submitted as jpeg files, sized to 1200 px on the longest dimension, 72 dpi is fine, and in Adobe RGB or sRGB color space only.
Files should be titled as follows: LastName_FirstName_Title_ImageNumber (Ex. Smith_John_Sunset_01, Smith_John_Flower_02)
All entries that do not adhere to the guidelines above will be rejected.
$25 Handling Fee
Upload through our portal  5 images. 8 images can be submitted for members at the dual level ($75) or above.
We ask for an artist project statement copied and pasted from word file or typed into application.
MAILED SUBMISSIONS:
Please include a title sheet, artist statement and information page including: Name, E-mail, Address, Phone and proof of membership or membership renewal form.
Prepare your images to the same specifications.
Burn images to CD and mail to:
Griffin Museum 25th Juried Submission
67 Shore Road
Winchester, MA 01890
ACCEPTANCE NOTIFICATION:
Selected artists will be posted on the website by June 6th, 2019. Please do not call the Griffin Museum to inquire whether your images were chosen. We have very limited staffing. We will send you a status letter if you were selected or not selected.
IMPORTANT DATES:
Entries: February 24 – April 24, 2019 at midnight.
Notice of Acceptance on the website: June 6, 2019 or earlier.
Final day framed works will be accepted to hang July 9, 2019 although earlier is appreciated.
Gallery Exhibition at the Griffin Museum: July 18 – Sept 1, 2019
Opening Reception: July 18, 2019 @ 7pm
Juror gallery walk/talk 6:15 PM on July 18, 2019. Juror will do a curator in residence review as well. Info to come.
EXHIBIT PRINTS: All accepted images submitted for exhibition must be printed and framed professionally with either glass or plexi. The Griffin Museum recognizes that some work is non-traditional and incorporates the framing as an integral part of the presentation. Artists will be responsible for shipping their framed images to The Griffin Museum in advance of the gallery show and for supplying a pre-paid return-shipping label. The FRAMED size may not exceed 30×40 in. We have found that images mounted on aluminum have a high damage rate. We cannot be held responsible for any damage to photographs mounted on aluminum.
SALES: All work accepted for the gallery show can be for sale. The Griffin Museum will retain a 35% commission on the sale of any work.
 USE RIGHTS: Artists maintain copyright on all of their work. By submission, artists grant The Griffin Museum the right to use their images for the purpose of marketing the exhibition and other Griffin Museum programs; and for reproduction online and in a print exhibition catalogue. Artists grant the use of their image(s) as stated without further contact or compensation from the Griffin. Artist's recognition is provided with any use. Submitting artists will be added to The Griffin Museum's monthly newsletter subscriber list. They may opt out using a link on each newsletter at any time.
Please retain this information and your filename information for your files until after announcement of the jury selection.