The Griffin Museum of Photography is pleased to announce a new exhibition from artist Ryan Zoghlin.  Known for his use of alternative photographic processes, Zoghlin has created a series blending creativity, science, technology and the environment building a fanciful series call Lacus Plasticus.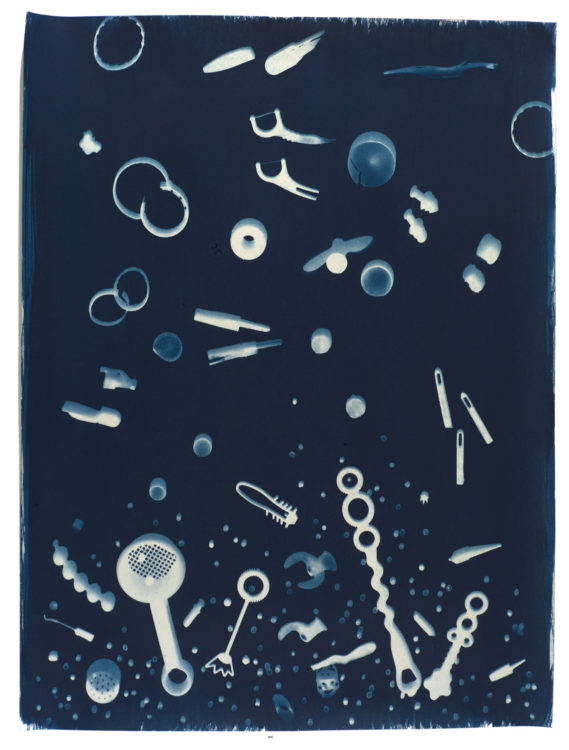 Many artists look to our surroundings to explore their creativity, and Zoghlin has found that inspiration off the shores of Lake Michigan. Repurposing plastics to create unique underwater environments using the light of the sun with the Photogram process, these one of a kind images tell the story of a natural habitat from unnatural sources. 
Hanging in our Atelier Gallery, Lacus Plasticus is a creative adventure of exploration.
In anticipation of his Artist Talk happening Thursday June 18th, we asked Ryan a few questions about his work.
Your whole body of work seems to come from a place of art as object, that each piece is unique and handmade. What drew you to use alternative and historic processes to complete your vision? 
I have always been interested in the perceived power of objects. Rabbits feet for luck or an evil eye to ward off bad luck. Even more so with personal objects. Objects owned by lost relatives or the famous seem to have greater gravity. I used to collect daguerreotype cases. Most had portraits in them. How important these pieces must have been to those who knew the folks photographed. Now their value is mostly in the case. The power of these images has been greatly diminished by the loss of personal attachment over time. For me the process I choose is one that I think will best support the subject. I also love to see the hand of the artist in the work. Historical processes lend themselves to this better. I am not against contemporary ways of image capture at all. For my aesthetic, though, I find there are instances where I see it as too perfect. 
How did you decide on the photogram process for Lacus Plasticus? 
A previous series of work I did titled "Bagged" was done as cyanotype photograms also. These pieces where made to document objects organized in clear plastic storage bags. The shadows created very three dimensional reproductions of the objects in the bag. With Lacus Plasticus, I wanted to be able to translate the plastic pieces' dimensionality onto the flat paper.  
I love the stories that you tell with these objects, yet there is no clear storyline in your titles? Why not?
When I first started Lacus Plasticus, I went to the Shedd Aquarium in Chicago to get a better feel for the behavior of aquatic animals. Many of the exhibits are about the same size and shape, very much like windows. Also the descriptions are very scientific, lots of Latin. I wanted the same tone. One of scientific discovery or method. The titles are more about documentation than narrative.
What do you want us as viewers to walk away with after seeing your work?
My work is always personal to me. As the saying goes, what is personal is universal. As an individual views the work, I hope they can relate on their own personal level and make their own decisions about the subject. Some may care about plastics in our fresh water lakes. Some may not care at all. My goal is to present issues that concern me. My hope is it will concern others.
About Lacus Plasticus –
For almost 40 years, I've been sailing off the beaches of Lake Michigan. As a kid and now a father with children, I've always loved the shore. As time has marched on, I've noticed the increase in plastics on the beach year after year. A few years ago, I started collecting and disposing of the plastic bits I would find. Now I collect plastic to create photogram photographs. The images depict plastic parts and pieces as underwater creatures. The pieces dramatize, for now, a fictitious state where plastics displace nature. 
About Ryan Zoghlin –
My memory of a love for photography started early on. Using my father's Pentax Spotmatic during a family road trip to Cape Canaveral, I clearly remember taking photographs of an early rocket sitting on its launch pad. By 14, I had my own darkroom and was very fortunate to have a very good photography department in my high school. This gave me the tools to move on to Rochester Institute of Technology, where I gained a solid technical background in photographic illustration. Wishing to explore photography as fine art and art in general, I moved on to study at The School of the Art Institute of Chicago, where I received a BFA in photography and sculpture in 1991.
My personal pursuits in photography have not waned through the years. Though my subject matter is varied, the intensity and thought put into each project is the same. While some work has been produced as digital prints from both color negatives and digital files, most of my work is done traditionally in a personal darkroom that I've maintained for the last 35 years. In the same time, I've used many alternative processes such as kallitypes, ambrotypes, cyanotypes, and orotones in my art. My work in orotones has been included in the Getty Conservation Institute's Research on the Conservation of Photographs project.My work has been a part of the Museum of Contemporary Photography's Midwest Photographers Project in Chicago and is in the collection of the Museum of Fine Art in Houston, TX. A recipient of an Illinois Art Council Fellowship and a Buhl Foundation Grant, I have also been featured in publications including Black & White Magazine, Photography Quarterly, Diffusion Magazine, Camera Arts Magazine and Photo District News, as well as many others. I am currently represented by Etherton Gallery in Tucson, AZ and Obscura Gallery in Santa Fe, NM.