Who is the hardest working photographer, curator, writer, editor, educator, mentor, juggler, community builder, wife, mother, and friend? My vote will always go to Aline Smithson. Needless to say, I am a big fan of her photography and a witness to the results of her teaching and mentoring efforts for photographers all over the world.
As I tell the story, I met Aline through a photograph of her mother that hung in a frame on the Griffin's walls during our 12th Juried Exhibition in 2006. The photograph was chosen by juror Bonni Benrubi. It was called "Arrangement in Green & Black (Portrait of the Photographer's Mother) No. 10." I would visit that photograph every day throughout the exhibition and admired it, plotting how I would save to make it my own. That never happened as I shared my plan with no one and one day it was wrapped up and returned to its rightful owner.
What struck me most about this photograph was its very wry wit.  As I fancy myself as a bit of a comedian, I respect and recognize those who see the world through the lens and sparkle of humor.  Smithson's references to James McNeill Whistler's own painted mother are apparent in the title of the image and stance of the subject. "The Photographer's Mother" sits in a wooden straight-back chair breaking bread and wine from a tiny TV stand underneath a print of da Vinci's "Last Supper". The elements within this one frame all reference Whistler but are presented in twists and turns that are all Smithson's own.
If you know Aline Smithson, you know she would rather not have her photograph taken. In this series her wish for anonymity remains. She stops short of naming her series "Smithson's Mother." Aline's mom, on the other hand, is not at all camera-shy in any of the photographs from this series. The bond between mother and daughter comes through in their "arrangement". Mother and daughter are both contributors and collaborators. And what fun the experience seems to be for both. And this is why we chose "Arrangement in Green & Black (Portrait of the Photographer's Mother) to highlight today.
Mother's Day began as a tribute to mothers who had lost sons and spouses to the Civil War. It continues now as a day of gratitude for moms everywhere. If only we could make every day a day of gratitude. It's what moms would want.
Below you will find Crista Dix's interview with Aline Smithson. Crista is the Associate Director of the Griffin Museum of Photography.
Paula Tognarelli
Executive Director and Curator
Griffin Museum of Photography
Aline Smithson has arguably one of the most visible mothers in photography. Creating her own version of James Whistler's Portrait of the Artist's Mother, she created an iconic photographic series bringing humor, life and poignancy to her own bond with her mother. See a description of one of Smithson's exhibits on the Griffin Museum's website.
What did she think of this series when you approached her with the idea? What did she think about being your model?
My mother was always incredibly supportive. She was totally game, as it allowed more time for us to be together. It was a profound experience as my mother was in decline and it shifted our conversations from heath and end-of-life, to art. The series took 2 years and we were able to create 21 images before she passed away. She never saw the photographs hand-painted and she never shared in its successes, at least in this life. It's a wonderful treasure for me to have this project to remember that special time we had together.
I remember her asking me why anyone would be interested in this work—I stated I didn't really care what anyone thought–that wasn't the point of the work. That sense of freedom in art making has always been part of my practice.
What was her favorite image of the series?
I honestly don't know, but my favorite image does not show up in the series.
She was dressed in a kimono with a parasol and kept laughing. I kept telling her that she had to be serious until finally I understood what was making her laugh. She was quietly giving me the finger. I managed to get one frame of that gesture before we got back to work.
How was your relationship before the series and how did it change during the shooting process? 
I don't think it changed our relationship, but it allowed us time together, just the two of us without all the distractions of motherhood and life. I feel so grateful to have that time, filled with fun and laughter, for us to collaborate at the end of her life.
How was she as a collaborator?
My mother was elegant and formal to the outside world, but behind the closed doors of our home, she had a wicked sense of humor and fun, as did my father. They both used humor throughout our lives to keep it interesting. One annual event was on April Fool's Day which was deemed Sloppy Joe Night. My mother would present food in weird colors and combinations and we were allowed to have terrible table manners–eating with our feet or upside down–all which resulted in great hilarity.
So with this legacy of humor in our household, it made her a fabulous collaborator. She wanted to be a bit more dramatic, but unfortunately had to reign her in! She was game for anything.
This series was the catalyst to many opportunities and opened many doors for you. It continues to be an iconic, beloved and long-lived series. What do you think is the reason it resonates with so many?
This project has truly been shown around the globe—Russia, China, Korea, Europe, and the U.S. Many gallerists and directors have told me how wonderful it was to have an exhibition where they could hear people laughing. Humor is so lacking in the photography world. And what could be a more universal theme that making fun of one's mother.
Another gift of this series is that when someone purchases a print, I spend time hand-painting it and that allows me to go back in time with my mother.  As I paint her face and hands, I feel re-connected to her.
You also have a series with both of your children. How do they feel about working with their Mother? Did they know their Grandmother? Were they able to see the two of you work together?
A few years back, my daughter was visiting a friend of a friend in New York and saw a copy of PDN on their coffee table–the issue where my photograph was on the cover and she was the model. She said to the friend, "Oh, that's my mother's photograph" instead of saying, "that's a photograph of me." I think my children have always separated themselves from the work and see it as my version of reality that they have participated in. They were, and are, in front of my camera so much that it was as normal as brushing their teeth. They both still are wonderful collaborators. I am truly so grateful to them.
My children were 11 and 14 when she passed so they did get to know her. She was a devoted grandmother. I was also working on another hand-painted series at the same time where my daughter and mother worked together. Both of my children have been part of my art making since they were tiny and witnessing me create this series with my mom was just part of everyday life. They certainly enjoyed some of the costumes and props that I was acquiring—and my dog even got in on project.
You say your greatest achievements are your two children, Charlotte and Henry. What are your favorite images of them?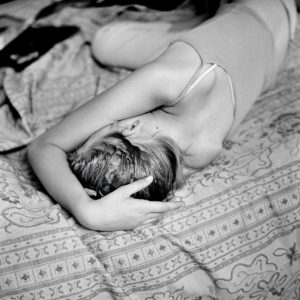 From Left to Right – Hotel Fiorita, from series Daughter  & Cuppa, from series Regarding Henry
There is no way I can answer that. Each photograph reveals a moment in time, an age, a stage – all have equal importance and they are all my favorites. In fact, I treasure them more than any possession I own.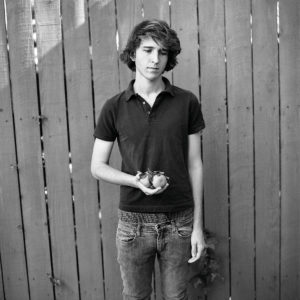 From Left to Right, Henry with Tangerines, from series Regarding Henry &  Roman Bed, from Daughter
You now have one of America's (and the world's) most famous mothers. She wanted you to be a dental hygienist. Do you think she changed her mind after seeing the series?
Ha! That's true. She wanted me to have a secure future and being an artist was certainly not that. But she has always supported me. She was really proud of my achievements as a fashion editor and that continued into my art making. That project was towards the beginning of my career so she didn't get to see my work out into the world.
You showed Arrangements in Green and Black (AGB) at the Griffin in 2010 and then had a mid-career retrospective including AGB in 2016. What was that experience like, seeing your work on the Griffin walls?
Anyone walking into the beautiful Griffin Museum space and seeing their work on the wall is a heady experience. But walking in and seeing your own work, your journey as a photographer shown on ALL the walls of the museum, is other-worldly and an out-of-body phenomenon. Honestly it was hard to wrap my head around such an honor.
It's interesting that we all chase success and when it comes, it's not what one expects. It's embarrassing and humbling. It challenges your psyche, brings self-doubt and creates a bit of imposter syndrome—at least for me.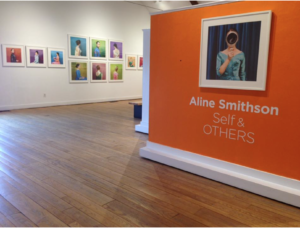 That saying, I was blown away with the layout and presentation of the exhibition, the beautiful orange wall that welcomed visitors into the show, the banners with my work outside of the museum—it was all magic. I feel so lucky and grateful to have had the support of the institution and the community that surrounds it. Truly one of the career-defining moments of my life.
Thank you Aline, for your creativity, sharing your Mother with us, and for being such a tremendous part of the Griffin legacy.
To see Aline's personal work visit her website at Aline Smithson. To see more of the community of photographers Aline nurtures and supports, visit Lenscratch for a daily dose of creativity and inclusion in all things photo.