In light of our quarantined exhibitions, we want to make sure you don't miss out on the great works on the walls of the Griffin, and our satellite exhibitions across the Greater Boston area. Our satellite space at WinCam, The Winchester Community Access & Media Channel features the clever work of Rick Wright. His series Vessels of the Late Petroleum Age is a wry, humorous look at how we view and interpret objects as well as questioning the idea of permanence and what we leave behind.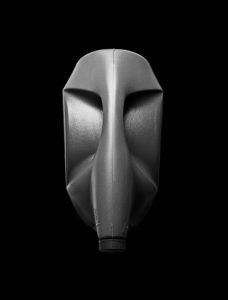 From Left to Right – #4, #17, #19
Rick Wright practices photography as a malleable and sculptural medium. This Philadelphia photographer inhabits the persona of a c. 4300 CE archaeologist: a scientist stumbling onto a cache of preserved vessels crafted out of an unknown synthetic material. This Dada series of catalogued "artifacts" explores how a future society might interpret contemporary plastic containers. The project is driven by Wright's creative lens work; the objects taking on new form, expression, and meaning.
Wright states, "Over the course of a full year, I ventured out into my Philadelphia neighborhood on recycling night. The purpose of my stroll was to dig through the blue bins piled high with plastic containers. The street lamps provided the perfect overhead lighting – akin to that original laundry room bulb – by which to preview the "personality" of each vessel. Wright goes on to say, "Photography suffers the unfortunate condition of looking like reality and it is the first thing to transcend as a photographer."
We had a few questions.
The images are unnamed, using only catalog numbers. Why the numbering system, and not something like archeological field notes?
Numbering (only) was my way to stay-out-of-the-way and let the viewer overlay their own typology, reactions, mapping, whatnot. I felt there was enough in the images without getting too careful or cute with the titles; the danger in making the project purely funny, or too joke-like. It's not. It's both: serious/dark, yet amusing.
I avoided Field Notes and over-describing the objects, hence the plain catalog numbers. I'm trying to leave a viewer plenty of room-to-roam about in the weight/reality of our ubiquitous and unseen over-use of plastic. (Though, really, not so "unseen" anymore.)
Without text to accompany each image, like field notes, what do you want the viewer to understand about the permanent culture we live in?
The whole project, effectively, is about taking a look back from the far future. (well, far human future). We're in the 41st Century and our archaeologist/scientist is struggling to sort these plastic vessels out (these Vessels holding: elixirs, potions, balms, aphrodisiacs, immortality). What caused the end of the Petroleum Age, effectively?
What do you hope the viewer walks away with in terms of understanding the project?
I'd like them to laugh, then perhaps cry. Certainly to reflect, without me (or the work) being heavy-handed or chastising.
What is the one vessel your anthropologist treasures most, but has yet to find. In Indiana Jones terms, his own Holy Grail.
While any or all of these "visages" might be good candidates for The Shaman, The Medicine Man, The Seer, I think I remain on the lookout for that super particular type. I'd know him/her when I saw them.
The Vessels of the Late Petroleum Age was featured on the cover of LensWork #144 magazine (Sept.-Oct. 2019); along with a 16-page spread. The work has also appeared online in Float Magazine and garnered a Fleisher Faculty Fellowship Award. Wright is currently collaborating with a writer on a book of this series.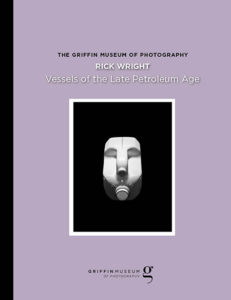 The Griffin Museum crafted a catalogue to accompany the exhibition and it is now available for purchase. For more information see our website for details.
Included in the book are the astute observations of art historian, scholar and independent curator in the field of photography, Alison Nordström, who gets to the heart of the series and its place in photography.
"Positioned, framed, composed, lit, and presented like art objects, Wright's images elevate, isolate, and transform the ordinary as photography is uniquely equipped to do. There is plenty to consider in this aspect of the work alone, but, taken as a whole, the series goes beyond visual description by encouraging interpretations on so many levels that it underscores a wide range of the many things photography can do. Simultaneously legerdemain, joke, science, typology, aesthetic study, symbol, sign, social commentary, and artifact, these photographs contain multitudes; the series is slippery, challenging, and memorable."
Our own Paula Tognarelli interviewed Rick during an episode of Optics interview at WinCam in Winchester, Massachusetts. Take a look and a listen.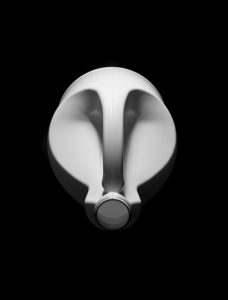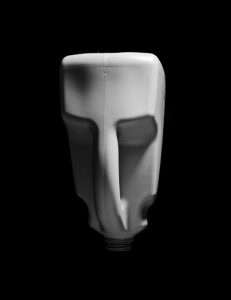 From Left to Right – #33, #48, #51
About Rick Wright
Rick Wright practices photography as a malleable and sculptural medium. He states, "photography suffers the unfortunate condition of looking like reality and it is the first thing to transcend as a photographer." His primary training as a painter at Princeton and Columbia Universities (BA and MFA) later morphed into photographic studies at ICP in NY with John Loengard, Susan Meiselas, Nan Goldin, and Dorit Cypis. 
Rick shows his work locally and nationally. Along with his ongoing history as an artist-using-photography, he also photographs architecture professionally. His works resides in several permanent collections; most recently added to the Houston Museum of Fine Art and Philadelphia Museum of Art. Wright keeps a studio in Philadelphia (past 12 years) and teaches photography at: Philadelphia Photo Arts, Fleisher Art Memorial, Peter's Valley School of Art & Craft, The Halide Project.
Several of his photographs reside in permanent collections: Houston Museum of Fine Art, Philadelphia Museum of Art, The Creon Collection, Johnson & Johnson Collection, and The University of Pennsylvania. Wright keeps his studio in Philadelphia (past 13 years) and teaches photography at Fleisher Art Memorial, Peter's Valley School of Art & Craft, and The Halide Project.
"Photography is 93% of my life," says Wright. "The other 7% is occupied by typewriter repair, short story writing, and life model sketching. I chose photography over painting for its speed, joy, and unexpected bends of reality."
See more of Rick Wright's creativity on his website.