"The Griffin is the embodiment of founder Arthur Griffin's passion — to promote an appreciation of photographic art and a broader understanding of its visual, emotional, and social impact. Arthur's goal was to share with visitors his enthusiasm for a medium that is diverse, imaginative, and informative." -The Griffin Museum of Photography
Winter Traditions
By Madison Marone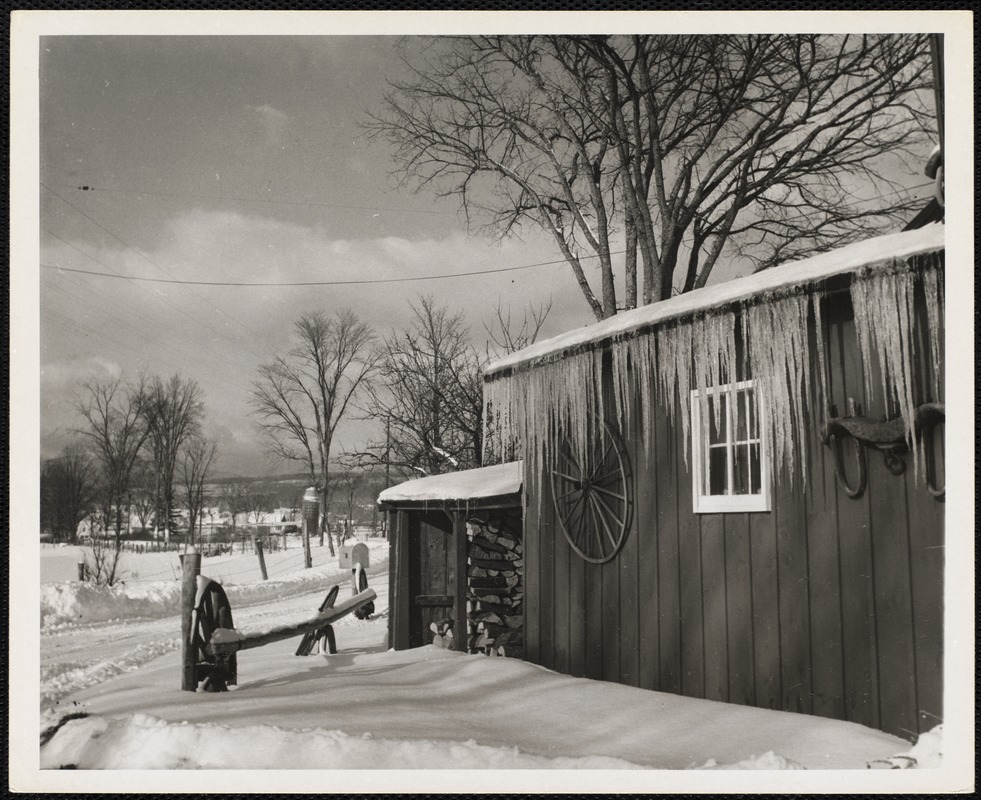 Introduction
As an Exhibitions Assistant at the Griffin Museum of Photography, I became curious about the stories and situations surrounding Arthur Griffin's work. After looking through the archives, I noted that his photography has both artistic and historical value. This inspired me to curate the following exhibit reflecting on winter traditions in New England. Engaging with Griffin's work helps frame our understanding of the past and deepen our appreciation of the present. The intention of this exhibition is to highlight and provide context for his photography so viewers may experience it in new and exciting ways.
Arthur Griffin's legacy lives on through the Griffin Museum of Photography. He is remembered as a successful photographer for the Boston Globe and a New England photojournalist for Life and Time magazines. Griffin was a pioneer in the use of color film, providing the first color photos to appear in the Saturday Evening Post. His work captures the essence and vibrancy of mid-20th century New England.
Illuminating the Archive of Arthur Griffin: Photographs 1935-1955, views the region's cultural heritage, traditions, and aesthetic through the lens of Griffin's lesser-known work. This six-part exhibition explores how photography enhances our relationship with and understanding of the past. Each exhibit features historical, sociological, and creative interpretations of photographs from the museum's collection.
This installment focuses on the history of winter traditions in New England. The following photographs depict specific situations where people came together to work and celebrate the season. In the first section, farmers and their families gather to create maple syrup. The second section explores the trend of "sugaring-off parties," while the third details the annual Dartmouth Winter Carnival. Griffin's work captures the spirit of these communities as they persevere through the coldest months and find joy in their traditions. Griffin's photos do more than document moments gone by, they invite us to see ourselves in them.
Maple Sugaring
Collecting sap and turning it into maple products remains one of the oldest traditions in New England's history. Indigenous North Americans discovered the process long before Europeans arrived in the region. It has continued to evolve and grow into the industry we know today.
Maple sugaring became a way for farmers to supplement their income over the winter months. They could sell syrup, candies, and sugary treats both locally and nationwide. The whole family would partake in the maple sugaring process. It involved tapping maple trees, hanging buckets, gathering sap, and retrieving it with animal-drawn sleds. The sap was boiled down into syrup, filtered, and bottled for storage or sale.
Griffin often visited Vermont and New Hampshire to document these farmers. His work provides a sense of connection with these communities as they labor to create income from this culinary treat. Photographs of children accentuate the fact that this duty is often inherited and passed down through generations. The last portrait of this section humanizes and honors an individual farmer in a style reminiscent of Dorthea Lange.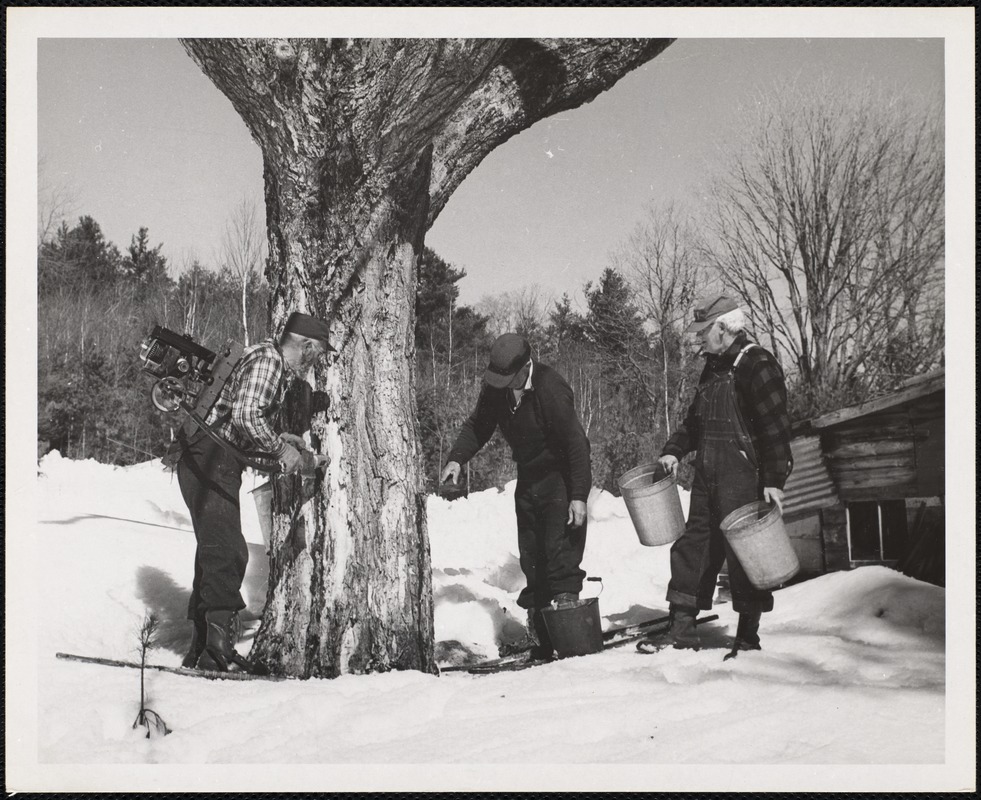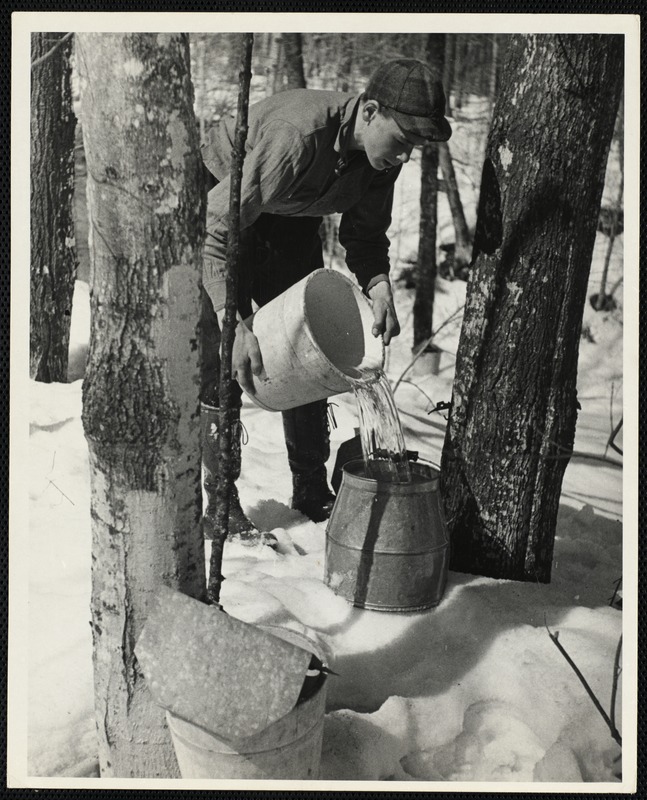 Sugaring-Off Party: 1941
Sap harvesting season in New England ranges from February to April, coinciding with the coming of spring. One of the ways to celebrate this seasonal change is a "sugaring-off" party. These parties often include music, dancing, and of course, eating syrup-based sweets. Variations of sugaring-off parties have been held since maple sugaring began. Certain indigenous tribes developed sacred rituals and maple dances to honor the first full moon of spring, known as the Sugar Moon. The tradition of hosting sugaring-off parties is still alive today.
On April 5th, 1941, Griffin visited Franconia, New Hampshire. Bette Davis was in town for the world premiere of her movie "The Great Lie" and to celebrate her birthday. The day began with a sugaring-off party hosted by Wilfred "Sugar Bill" Dexter and his wife Polly. Celebrities and writers gathered to take part in the festivities.
Griffin documented the setting of the party as well as those in attendance. Establishing shots show sugar being prepared in big kettles while crowds gather around. Medium shots of buffet lines feature people tasting treats and conversing. Through these images, this vintage scene comes alive. They enable viewers to sense the joyous energy of a sugaring-off party.
Dartmouth Winter Carnival: 1939
Meanwhile, another form of winter festivities was taking place in New Hampshire: the annual Dartmouth Winter Carnival. The carnival was created in 1910 and is still going strong. What began as a weekend to promote winter sports on campus quickly turned into what National Geographic Magazine called the "Mardi Gras of the North." Over the years, specific activities included ice sculpture contests, beauty pageants, slalom races, dances, polar plunges, and ice skating shows. Due to COVID-19 restrictions, 2021's "Level Up: Carnival Rebooted" takes place online in the form of videos and virtual gaming. The carnival continues to be a celebratory part of Dartmouth's identity.
Griffin attended the carnival of 1939, the same year F. Scott Fitzgerald visited with Budd Schulberg to work on a screenplay for the movie "Winter Carnival." Dartmouth was still an all-male college at that time. In an effort to attract female attendees, the school held a "Queen of Snows" beauty pageant from 1923 to 1973. Students were encouraged to bring dates from their hometown and neighboring colleges. On Friday afternoon, Hanover station would be bustling with reuniting couples, aspiring movie stars, and performers. The weekend was full of outdoor activities during the day and parties at night.
The following photographs capture the exciting atmosphere of the Winter Carnival. Griffin's work depicts a sense of vitality, movement, and youthful enthusiasm. These images show a community coming together in celebration of friendship and the winter season.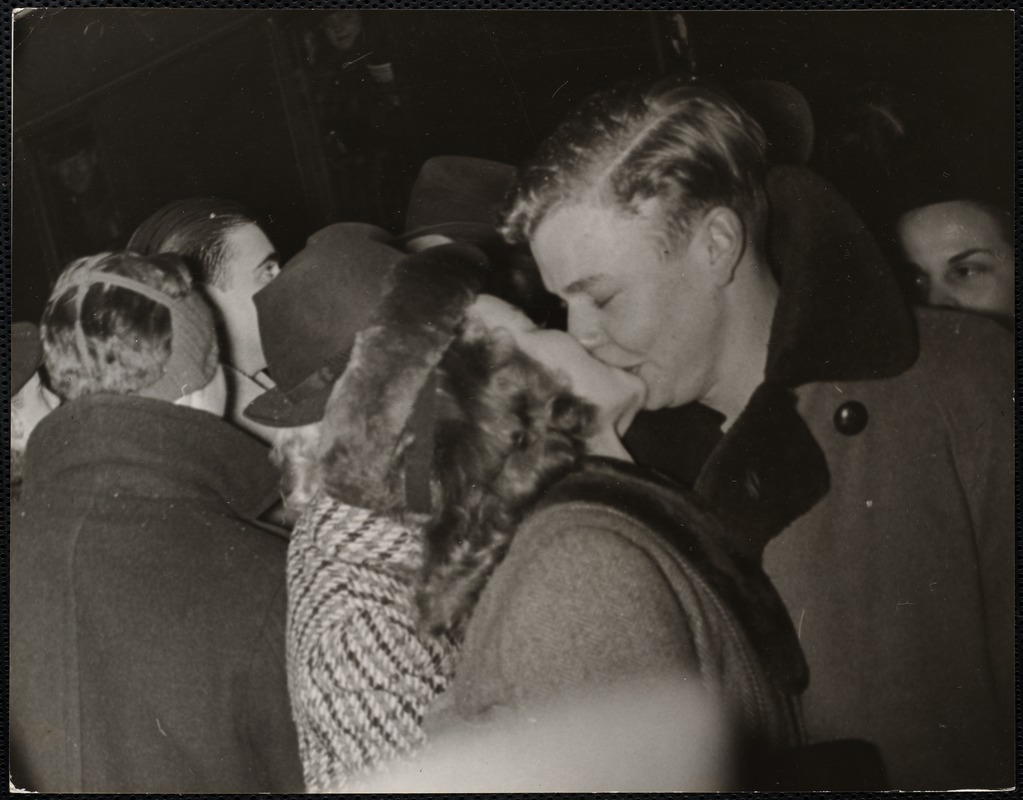 Final Thoughts
In the year 2021, we may feel extra nostalgic for big gatherings and celebrations. We have had to alter and revise our own traditions and make sacrifices for the greater good. But, we will persevere. Through this experience, we will find even deeper meaning in the connections we have with one another. Engaging with Griffin's work can help us celebrate our communities, remember our history, and keep traditions alive in our hearts.
Special thanks to the Boston Public Library for digitizing a large portion of the Arthur Griffin Archive so it may be accessible to the public. If you would like to view more photos and library material, visit the Boston Public Library for the Digital Commonwealth and the Digital Public Library of America.
---
Madison Marone is an Exhibition Assistant at the Griffin Museum of Photography and a graduate student pursuing her MSc in museum studies at the University of Glasgow. She holds a BA in film studies and sociology from the University of Vermont. Her interests include early to mid-20th-century art history, film theory, and exhibit design.
---
References:
Pickert, Kate. "A Brief History of Maple Syrup." Time, Time, 16 Apr. 2009, time.com/3958051/history-of-maple-syrup/.
"Maple Sugaring History." New England Maple Museum, 14 Mar. 2020, www.maplemuseum.com/maple-syrup-history/.
Ely, Christina. "Maple Sugaring During a Full Sap Moon." The Farmers' Museum, 2011, thefarmersmuseum.blogspot.com/2011/02/maple-sugaring-during-full-sap-moon.html.
Kelly, George. "Bette Davis Eyes Sugar Hill." New Hampshire Magazine, 1 Mar. 2012, www.nhmagazine.com/bette-davis-eyes-sugar-hill-2/.
Bald, Barbra. The North Star: Bette Davis, 4 Nov. 2008, newhampshireadventures.blogspot.com/2008/11/north-star-bette-davis.html.
Rhodes, Jennie. "'The Broken Country and Long Winter': The History of the Winter Carnival." The Dartmouth, 8 Feb. 2019, www.thedartmouth.com/article/2019/02/rhodes-carnival-history.
Desai, Nicholas. "Fitzgerald Visits Hanover." The Dartmouth Review, dartreview.com/fitzgerald-visits-hanover/.
All images on this webpage © copyright 2021 by the Griffin Museum of Photography. All rights reserved. No part of this webpage may be reproduced in any manner whatsoever without written permission of the museum except in the case of brief quotations from the written material with citation.