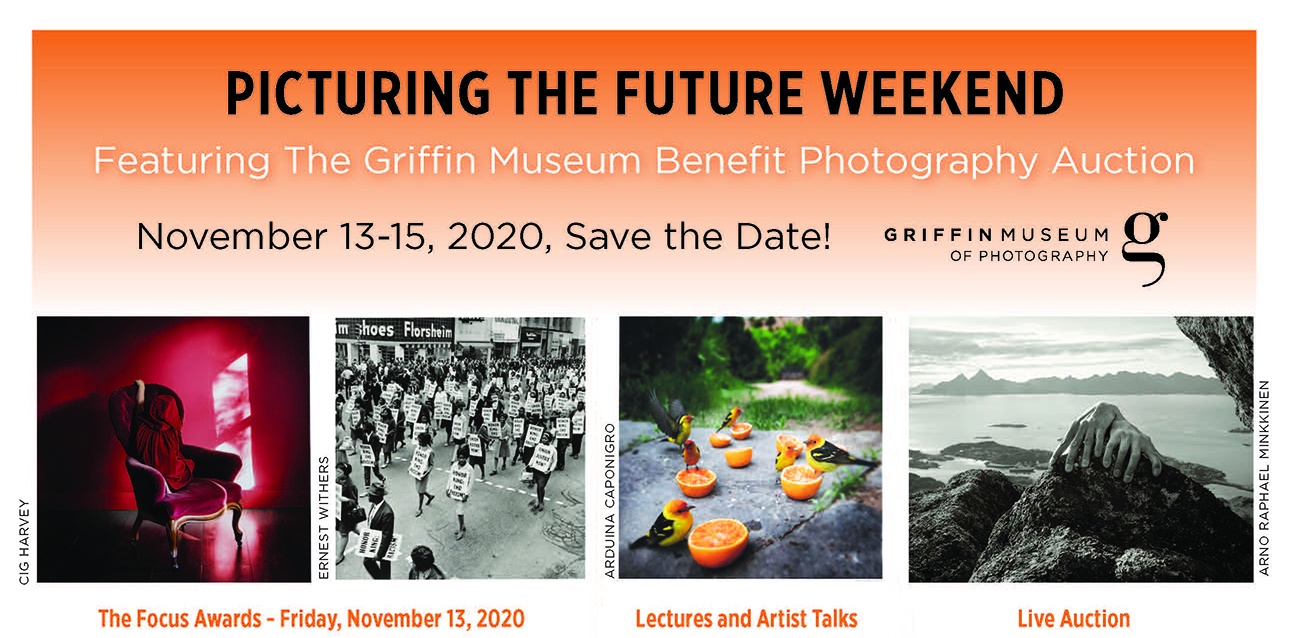 Winchester, October 2, 2020 – The Griffin Museum of Photography in Winchester, Massachusetts, along with photography creatives from across the United States invite you to a weekend of special events, culminating in a Photography Auction benefiting the Griffin Museum of Photography. The auction will help support the Griffin's educational programs, exhibitions and operations.
The Griffin Museum of Photography is a nonprofit organization dedicated solely to the art of photography. Through our many exhibitions, programs and lectures, we strive to encourage a broader understanding and appreciation of the visual, emotional and social impact of photography.
We are thrilled to be part of a community of photographic artists who are supporting the Griffin by donating their time and creative work to help sustain the Museum.
IT'S A COLLECTORS' WEEKEND!
Tickets for a weekend of events are now available. Buy a weekend pass, or per event. Tickets are on individual program pages on our website.
Starting on Friday Evening on November 13, 2020 at 7 PM, we celebrate the Focus Awards by honoring
photography gallerist Robert Klein with a Lifetime Achievement Award. Stan Trecker, Dean Emeritus of Lesley University, will present the award to Robert Klein. We will also award the Rising Star Award to Arnika Dawkins, owner and director of the Arnika Dawkins Gallery in Atlanta, Georgia. Dr. Deborah Willis will present the award to Arnika Dawkins. Dr. Willis is an esteemed photographer, educator, author, curator, and a MacArthur and Guggenheim Fellow. Her accomplishments are many and can be best understood by reviewing her full bio.
After both of the award recipients accept their Focus Awards, Robert Klein will talk a little about the evolution of the photo market.  He will give an overview of where the photo market was in 1978 when he first became involved up to the present day impact of the Covid-19 pandemic. After, we will open up opportunity for the audience to ask questions and have dialogue.
Robert Klein is the owner and director of the Robert Klein Gallery in Boston. The gallery, established in 1980, specializes in the market for fine photographs. Robert Klein was the president of the Association of International Photography Art Dealers (AIPAD) from 1995 – 2008 and a board member of AIPAD from 1985 – 1995. As president of AIPAD, Klein initiated long range plans to position AIPAD into the mainstream of the art market. The Robert Klein Gallery has had an international presence for over 40 years and services an international clientele. Klein received his MBA from Babson College. He attended Hobart College and received his BA from Wilkes University.
Arnika Dawkins is the owner of her eponymous fine art photography gallery established in Atlanta in 2012. The gallery shows work by talented emerging and mid-career artists with a specialization in showing fine art photography by African Americans and images of people from the African Diaspora. Her passion is connecting collectors to photography that is significant, inspiring, and provocative. As a fine art photographer and avid collector herself, she is a valuable resource to collectors and artists alike. She is passionate about the medium, having obtained a Master of Arts in Digital Photography from the Savannah College of Art and Design.
THE WEEKEND IS FILLED WITH VIRTUAL LECTURES AND ARTIST TALKS 
November 14, 2020 at 1 PM EST
Four of the contemporary photographers in our auction will discuss the threats and opportunities of our industry today facilitated by photographer Caleb Cole. Photographers Chehalis Deane Hegner, Raymond Thompson, Jr., Jennifer McClure and JP Terlizzi will speak to "what floats their boat" and "what keeps them up at night" in photography in the year 2020. All four photographers have donated delicious photographs to our auction that you might want for yourselves. Check into the auction site invaluable.com during the preview period to see for yourself.
Chehalis Deane Hegner is a discipline fluid artist named in the 2018 and 2020 Julia Margaret Cameron
Awards. Recipient of the Gjion Mili Photography Prize in 2010 (Kosovo), her portraits have been featured in both Christie's and Phillips catalogs. Solo and group exhibitions in the US and Europe include: The Catherine Edelman Gallery (Chicago) The Griffin Museum (MA), Photographic Resource Center (Boston), Art Institute of Boston, Maryland Art Place (Baltimore), St. Gauden's National Historic Site (Cornish, NH), The Cultural Center (Varigotti, Italy), Perspective Gallery (Evanston, IL), Interlochen Art Academy (MI), the MIT Museum (Cambridge, MA) The Rey Center; curated by Vicki Goldberg (Waterville Valley, NH), Institute of Contemporary Art (Portland, ME) and the National Gallery of Art in Kosovo. In 2005 Hegner received her MFA in Photography at Lesley University College of Art and Design (Cambridge, MA). She served on the faculty at University of Massachusetts at Lowell in the College of Art and Design until 2015. Hegner has held positions on jury panels, teaches photo workshops, and is a member of ASMP. Hegner is the co-founding director at Halo Hill, a newly founded cultural arts organization near Chicago. She has served on non-profit boards including The PRC (Boston University) the Hegner Family Foundation, and is currently an appointed Arts Commissioner for the City of Woodstock, IL.   photo of Chehalis is © 2020 Chehalis Deane Hegner.  The featured photo on the top of this event page is [©2019. Chehalis Deane Hegner].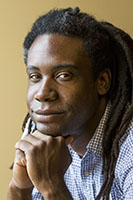 Raymond Thompson Jr. is a freelance photographer and multimedia producer based in Morgantown, WV. He currently works as a Multimedia Producer at West Virginia University. He is also pursing an MFA in photography from West Virginia University. He received his Masters degree from the University of Texas at Austin in journalism and graduated from the University of Mary Washington with a BA is American Studies. He has worked as a freelance photographer for The New York Times, The Intercept, NPR, NBC News, Propublica, WBEZ, Google, Merrell and the Associated Press.
photo © Raymond Johnson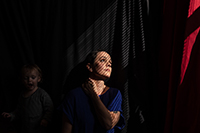 Jennifer McClure is a fine art photographer based in New York City. She uses the camera to ask and answer questions. Her work is about solitude and a poignant, ambivalent yearning for connection. The Leica Gallery in Boston will present a solo show of her work in April 2021. She was a 2019 and 2017 Critical Mass Top 50 finalist and twice received the Arthur Griffin Legacy Award from the Griffin Museum of Photography's annual juried exhibitions. Jennifer was awarded CENTER's Editor's Choice by Susan White of Vanity Fair in 2013 and has been exhibited in numerous shows across the country. She has taught workshops for Leica, Los Angeles Center of Photography, PDN's PhotoPlus Expo, the Maine Media Workshops, The Griffin Museum, and Fotofusion. Her work has been featured in publications such as NatGeo Travel, Vogue, GUP, The New Republic, Lenscratch, Feature Shoot, L'Oeil de la Photographie, The Photo Review, Dwell, and PDN. She also founded the Women's Photo Alliance in 2015. photo © Jennifer McClure.
JP Terlizzi is a New York City photographer whose contemporary practice explores themes of memory, relationship, and identity. His images are rooted in the personal and heavily influenced around the notion of home, legacy, and family. He is curious how the past relates and intersects with the present and how the present enlivens the past, shaping one's identity.
Born and raised in the farmlands of Central New Jersey, JP earned a BFA in Communication Design at Kutztown University of PA with a background in graphic design and advertising. He has studied photography at both the International Center of Photography in New York and Maine Media College in Rockport, ME.
His work has been exhibited extensively in galleries and museums across the United States and abroad including juried, invitational, and solo exhibitions. JP has received several awards and honors, including being recognized and named in The Critical Mass Top 50 (2019, 2018), Critical Mass Finalist (2016, 2015). Fresh Finalist (Klompching Gallery, 2019), First Look Winner (Panopticon Gallery, 2019), International Portfolio Competition Winner (Soho Photo Gallery, 2018). His work has been published in both online and print publications and is held in both permanent and private collections across the United States and Canada. JP is currently represented by Foto Relevance Gallery in Houston TX. Photo © Daniel Murtagh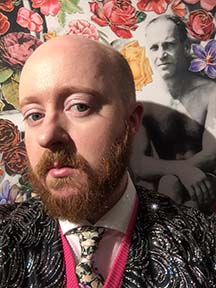 Caleb Cole was born in Indianapolis, and was a former altar server, scout, and 4-H Grand Champion in Gift Wrapping. Caleb's mother instilled in them a love of garage sales and thrift stores, where they developed a fascination with the junk that people leave behind. They are a 2015 Massachusetts Cultural Council Fellow, 2013 Hearst 8×10 Biennial Winner, 3-time Magenta Foundation Flash Forward Winner, 2011 St. Botolph Club Foundation Emerging Artist Award winner, 2011 Massachusetts Cultural Council Fellowship Finalist, 2009 Artadia Award winner, and a 2009 Photolucida Critical Mass finalist. Caleb exhibits regularly at a variety of national venues and has held solo shows in Boston, New York, Chicago, and St. Louis, among others. Their work is in the permanent collections of the Museum of Fine Arts Boston, Newport Art Museum, Davis Art Museum, Brown University Art Museum and Leslie Lohman Museum of Gay and Lesbian Art. Caleb is represented by Gallery Kayafas, Boston.
Saturday November 14, 2020 at 3:00 PM EST
W.M. Hunt (Bill) will talk about how to collect photography, what to collect in photography and what he collects as well as discuss with Paula Tognarelli, the Griffin Museum's executive director and curator, specific photographs in the upcoming Griffin's Picturing the Future photography auction.
W.M. Hunt, is a photography collector, curator and consultant who lives and works in New York.  He has been collecting photography for 40 years.
His Collection Dancing Bear consists of magical heart stopping images of people in which their eyes cannot be seen and is the subject of his book "The Unseen Eye" (Aperture, Thames & Hudson, Actes Sud).  Look also at Christies for a single owner sale going on now.  His Collection Blind Pirate has images of American groups before 1950.   Highlights from both collections have been exhibited in the US and internationally, most recently at the Fotofestiwal in Lodz Poland.
He has worked with the Griffin since its first Focus Award ceremony and with an installation of works by the photo agency VII and an exhibition by Martin Schoeller. Hunt loves talent;  he does lots of portfolio reviews and was a dealer for many years (Hasted Hunt and Ricco/Maresca).  He has taught at the ICP, Aperture, SVA, and the Maine Media Workshop.
Hunt is on the Board of Directors of the W. Eugene Smith Memorial Fund and, formerly, The Center for Photography at Woodstock where he was the recipient of their Vision Award in 2009. He has also served on the Board of Directors of AIPAD (Association of International Photography Art Dealers) and was the past Chairman of Photographers + Friends United Against AIDS.
He says that photography changed his life. It gave him one.
Photo of W.M. Hunt © Martin Schoeller
November 14, 2020 at 7 PM EST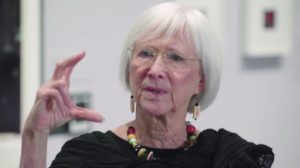 Barbara Hitchcock is a writer and curator, former Director of Cultural Affairs at Polaroid and former Curator of the Polaroid Collections in Massachusetts. She serves on the Collections Committee of Harvard Art Museums in Cambridge, Massachusetts. Hitchcock will have a one-on-one discussion with photographer Arno Rafael Minkkinen about his photographs and photographic journey.
Photo of Barbara Hitchcock is a snippet from Glasstire TV Curator Interview for "The Polaroid Project at the Amon Carter Museum of Art.
November 15, 2020 at 1 PM EST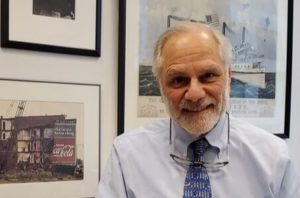 Drew Epstein will do a question and answer program called "Ask me a copyright question." Here's your opportunity to get your gnawing copyright questions answered by a copyright expert. Drew is the president of the Griffin Museum of Photography's Board of Directors and a copyright attorney and a partner in the firm of Baker, Epstein & Loscocco in Boston. His practice focuses on copyright, trademark, contracts and licensing issues.
Drew is an accomplished trial attorney with over three decades of successful jury and non-jury trial and appellate court experience in both Massachusetts and Federal courts. Drew has successfully represented clients in a wide variety of cases, including multi-million dollar personal injury actions, $1.1 million for copyright infringement, and $1.2 million for damaging several works of art. Photo © Jennifer Farrell.
JOIN US FOR OUR PICTURE THE FUTURE AUCTION 
November 15th at 3 pm EST

This special event will be a live photography auction via the auction platform InValuable and will be available for viewing all over the world. There will be images that will excite both seasoned photography collectors, as well as those just starting to collect. Prints will be affordable and the proceeds will help support the Griffin and enhance our programming. Participation in the auction is free, however all would need to register in advance on the auction site in order to bid. The auction items are on view now on InValuable in advance of the live auction. The live auction takes place on November 15, 2020 at 3 PM.
Over 70 prints spanning a wide spectrum of photographic genres will be available. Original photographs will be available from established photographic luminaries such as John Paul Caponigro, Barbara Crane, Elsa Dorfman, Jim Dow, Harold Feinstein, John Goodman, Cig Harvey, David Hilliard, Lou Jones, David Levinthal, Rania Matar, Arno Rafael Minkkinen, Olivia Parker, Vaughn Sills, Joyce Tenneson, George Tice, Bradford Washburn, William
Wegman, Ernest Withers and so many more. Also available is a coveted and highly collectable complete set of "baseball" trading cards by Mike Mandel. A number of these cards are in major museum collections. We are also pleased to introduce you to works from the next generation of creative artists, Keiko Hiromi, Jennifer McClure, Aline Smithson and Sal Taylor Kydd among others. A full list of  photographers in the auction are available now.
For more information please contact the Griffin Museum at 781.729.1158 or by email contact Crista Dix, Associate Director at crista at griffinmuseum dot org.   photo © William Wegman (right)
View Press Release for the Picture the Future Weekend.
For a four event package price of $40 see ticket below.