Photosynthesis XVI
Various
Artist Reception - Sunday June 12, 2022 4 to 6 pm
PhotoSynthesis XVII is a collaboration between Burlington High School and Winchester High School facilitated by the Griffin Museum of Photography.
Join us on June 12th from 4 to 6pm for an Artist Reception to celebrate these talented student works and meet their instructors and supporters.
Now in its seventeenth year, this 5-month program connects approximately 25 students with each other and professional photographers, artists and curators. Using photography as a visual language, student's increase their vocabulary to communicate about themselves and the world around them. Interacting with fellow students from different programs, backgrounds and schools the students create a capsule of who they are in this moment, learning from each other to create a united exhibition showcasing all they have learned during the program.
Students from Burlington High School –
Lindsay Bullock, Caileigh Connolly, Samantha Goneau, Mary Kate Hayes, Alyssa LoCicero, Alexander McGillvray, Georgia Doherty, Zachary Doucette, Lindsey Lavioe, Caroline Sciarratta, Isabelle James, Paul Fauller and Navya Garg
Students from Winchester High School –
Alex Azzarra, Neave Bunting, Ibny Xian Crookson, Claire English, Marly Exantus, Sophia Lubin, McKenna McDaniels, Athena Wang, Zoe Xanthopoulos
The students are given the task of creating a body of work that communicates a sense of self and place.  They were encouraged to explore the importance of props, the environment, facial expression, metaphor, and body language in portrait photography.
This year, two photo based artists, Alanna Airitam and Granville Carroll spoke to the students via zoom conference, and will meet the students for an in person review during the exhibition opening at the museum.
Alanna Airitam
Questioning generalized stereotypes and the lack of fair and equal representation of people of color in art spaces has led artist Alanna Airitam to research critical historical omissions and how those contrived narratives represent and influence succeeding generations. Her photographic series The Golden Age, Crossroads, White Privilege, and individual works such as Take a Look Inside and How to Make a Country ask the viewer to question who they are and how they choose to be seen.
Airitam's portraits and vanitas are photographed in studio with minimal lighting rendering a painterly quality to her photographs. The archival pigment prints from The Golden Age series are hand-varnished while those in the Crossroads, Take a Look Inside and How to Make a Country series are archival prints encased in resin and placed in hand-welded frames. All works are produced by the artist in limited editions.
Alanna is a 2020 San Diego Art Prize winner, 2020 Top 50 Critical Mass Finalist, and recipient of the 2020 Michael Reichmann Project Grant Award. Her photographs have been exhibited at Catherine Edelman Gallery in Chicago, Quint Gallery in San Diego, San Diego Art Institute, Art Miami with Catherine Edelman, Athenaeum Art Center in San Diego, and Candela Gallery in Richmond, Virginia. Born and raised in Queens, New York, Airitam now resides in Tucson, Arizona.
Granville Carroll (American b. 1992) is a visual artist and Afrofuturist working with digital technology, poetry, and alternative processes to reshape the world. Carroll's artwork explores photographic representation and vision to understand the process of existence and interpretation. Simultaneously, he explores and expands ideas around racial blackness to encompass spatial blackness, temporal blackness, and spiritual blackness. Carroll highlights the imaginative qualities of the human mind through world building and storytelling to discover new futures and states of being. At the core of his practice is the investigation into metaphysics and the ontology of self and the universe.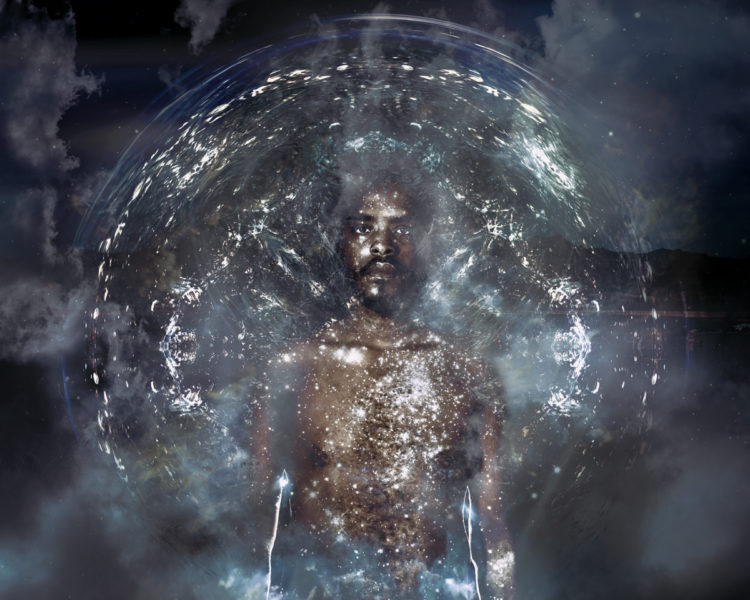 Carroll earned a BFA in photography from Arizona State University in 2018, and earned a MFA in photography and related media from the Rochester Institute of Technology in 2020. His work has been shown in the United States and internationally. Most recently his work has appeared at the JKC Gallery in New Jersey, Northlight Gallery and Tempe Center for the Arts in Arizona, and in Italy for the Time in Jazz Music Festival. Carroll currently resides in Rochester, NY where he recently completed a residency at the Visual Studies Workshop during Fall 2021. Carroll has been named a 2021 Silver List artist and a 2020 Critical Mass Finalist. His work has been published in a variety of physical and online publications, interviews, and features. Most recently his work was published through What Will You Remember, Brink Literary Journal, Lenscratch, Humble Arts Foundation, and Black Is Magazine.
After working independently, the students meet with esteemed independent curator and scholar Alison Nordstrom, the former curator of the George Eastman House in Rochester, N.Y. She and photographer Sam Sweezy met with students for a one-on-one discussion of their work and a final edit was created for the exhibition at the museum.