Statement I never knew that drug bags were drug bags. I see them on the ground everywhere I go: nice neighborhoods, "bad" neighborhoods, big cities, and family-friendly parks in small towns. I always thought they were for craft supplies, hardware, buttons, etc. I didn't question their purpose, I knew exactly what they were, until it hit me one day. I suppose my naiveté should be embarrassing, but I think it's endearing. My family has been haunted by drug abuse for more than half my life. In some ways my adolescence was robbed from me. Memories I thought didn't exist suddenly more…
---
Statement For almost 40 years, I've been sailing off the beaches of Lake Michigan. As a kid and now a father with children, I've always loved the shore. As time has marched on, I've noticed the increase in plastics on the beach year after year. A few years ago, I started collecting and disposing of the plastic bits I would find. Now I collect plastic to create photogram photographs. The images depict plastic parts and pieces as underwater creatures. The pieces dramatize, for now, a fictitious state where plastics displace nature. I've been calling this series, "Lacus Plasticus". RZ more…
---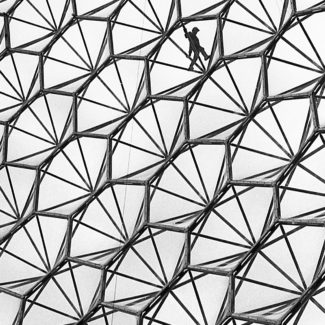 Artist Statement The news stories and famous faces that I photographed number in the thousands. I had a front row seat on life itself. I covered the great and near great, and the homeless eating out of dumpsters. I filmed kings and queens, presidents, and princes of the church. I recorded militants and pacifists, and great revelations in medicine. My camera and I were witness to the wise counsel of the experts of our time. I had a great passion for covering television news during the journalistically exciting period of the 50's through the 80's, a time that produced a more…
---
Griffin Museum Satellite Galleries
The Griffin Museum at Greater Boston Stage Company
The Griffin Museum at SoWa
The gallery is located at 530 Harrison Ave in SoWa at GTI Properties.
Lafayette City Center Passageway
Griffin Museum at the Jenks Center
Regis College Carney Gallery
Sorry we are in betwen shows just now.
But we're busy working on the next one. Check back here to see what's up next...
The Griffin Museum@WinCAM
Critic's Pic
Virtual Gallery
The Instagram Exhibition
The Photography Artist Book Initiative